Stuck for breakfast ideas? Breakfast is one of the harder meals to prepare while on a low-sugar diet plan, mainly because the majority of store-bought cereals and breads are full of added sugars. There are more than 50 names for sugar, and you might find anywhere between one and five of those names on your cereal's ingredient list.
These filling muffins are made from energizing buckwheat groats and a tasty combination of nuts and seeds. They contain no added sugar, and the tasty mix of fats and protein will give you an energy-filled start to your day. Enjoy!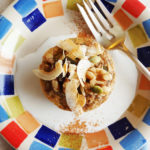 Buckwheat Breakfast Muffins
Ingredients
1

cup

buckwheat groats, soaked

½

cup

unsweetened coconut flakes

¼

cup

walnuts, chopped

¼

cup

pumpkin seeds

2

Tbsp.

chia seeds

¼

cup

flaxseed meal

1

tsp.

cinnamon

¼

tsp.

salt

2

eggs

1 ½

cups

almond milk

¼

cup

almond butter

3

packets or 1 ½ tsp. powdered stevia

1

Tbsp.

alcohol free vanilla

Coconut milk, cinnamon, coconut flakes, walnuts and pumpkin seeds for garnish
Instructions
In a medium bowl, soak buckwheat groats with a pinch of salt overnight or about 6 to 7 hours. Drain and rinse groats thoroughly with fresh water, drain again.

Preheat oven to 375 degrees F (190 degrees C). Brush a 12 cup muffin tin generously with oil, such as coconut oil, set aside.

In a large bowl, add buckwheat groats, coconut flakes, walnuts, pumpkin seeds, chia seeds, flaxseed meal, cinnamon and salt, stir to combine.

In a small bowl, add eggs, almond milk, almond butter, stevia and alcohol free vanilla, whisk until frothy.

Pour liquid ingredients into bowl with dry ingredients, stir to combine. Scoop about ⅓ cup muffin mixture into each cup of the prepared muffin tin. Bake muffins for about 15 to 20 minutes or until muffins have browned around the edges and are firm to the touch. Cool muffins in tin for about 10 minutes.

Serve warm with coconut milk, a dusting of cinnamon and a garnish of coconut flakes, walnuts and pumpkin seeds.
Looking for more gluten-free, sugar-free recipes? My Ultimate Candida Diet program contains more than 50 delicious recipes, plus lots of valuable advice on which foods to eat and avoid. Find out more here.