Baba Ganoush is a popular dip found throughout the regions around the Mediterranean. The luscious creaminess of roasted eggplant and the rich nuttiness of tahini (ground sesame seeds) give it a distinctive flavor. The addition of tangy lemon juice and a healthy hint of fresh garlic and parsley rounds out the flavor.
For this recipe, choose an eggplant that is firm and shiny as they tend to be less bitter.
Baba Ganoush can be made in a snap with a food processor, but if you don't own one, you can mash everything together with a fork. The texture of the dip will be chunkier, but still delicious. Add a final garnish of fresh minced parsley, a drizzle of olive oil and a pinch of red pepper flakes (optional) and it's ready to serve.
This light and creamy textured dip makes a perfect appetizer alongside our Quinoa and Buckwheat Crackers, an assortment of crisp crudités and olives. Ganoush can also be served an accompaniment to a savory quinoa pilaf and any grilled or roasted meats.
Baba Ganoush
Ingredients
1

large eggplant, about a pound

1

Tbsp.

olive oil, plus more for garnish

1

clove

garlic, peeled and thinly sliced

1

Tbsp.

fresh lemon juice

2

Tbsp.

tahini

1/2

tsp.

salt

Pepper to taste

2

Tbsp.

minced fresh parsley, plus more for garnish

Red pepper flakes (optional)
Instructions
Preheat oven to 450 degrees F (232 degrees C).

Prick the eggplant in a few places with a fork or sharp knife, then place on a rimmed baking sheet. Bake for 35 to 40 minutes or until eggplant has collapsed and pulp is soft. Cool until eggplant is easy to handle, then remove stem and skin.

Into the bowl of a food processor, add eggplant pulp, olive oil, thinly sliced garlic, fresh lemon juice, tahini, salt and pepper. Process ingredients until smooth, about 1 minute. Add fresh minced parsley and process for another 10 seconds, just to combine.

Serve Baba Ganoush at room temperature with a drizzle of olive oil, a garnish of fresh minced parsley and a few red pepper flakes (optional). Any remaining dip will keep, covered, in the refrigerator for several days.
This healthy dip is just the kind of food that will improve your gut health while preventing cravings for any of your old 'unhealthy' foods. Our Ultimate Candida Diet program contains more than 100 gluten-free, sugar-free recipes just like this, plus lots of valuable advice on symptoms, treatment options, and more. Find out more here.
Free Guide To Beating Candida
Sign up to our free, 8-part email course today, and learn how to create your own, personalized Candida treatment plan :)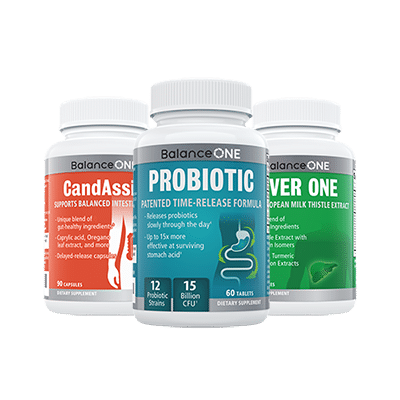 3-Month Candida Elimination Kit
Start Your 3-month Candida Cleanse
This Candida Kit contains all the supplements recommended on the Candida Diet:
- LIVER ONE to process and remove the toxins created by Candida.
- CANDASSIST to inhibit and weaken the Candida colonies in your gut.
- PROBIOTIC to replace the Candida yeast with probiotic bacteria.
Plus... the CANDIDA DIET RECIPE BOOK with 50+ low-sugar recipes
Comments