Quinoa and Buckwheat Crackers
Eating well can be a challenge, especially when you've been eating unhealthy, processed foods for years. Snacks like chips, and crackers are some of the hardest to eliminate from your diet.
With a bit of ingenuity, you can usually find a healthy alternative. Take these quinoa and buckwheat crackers, for example. You might not be familiar with the flours in this recipe, but don't be intimidated. They are actually very simple and easy to make once you give them a try.
With a few ingredients and a little time, you'll have four beautiful cracker rounds that you made yourself.
These crisp, flavorful crackers are marked by little bubbles that give them a beautiful rustic look and a nice crunch. You can prepare them plain or sprinkle them with dried herbs. In this example we used Herbs de Provence.
You can serve these crackers as an appetizer or snack with vegetable sticks and your favorite dip. They combine well with our yummy artichoke hummus dip. They also make a nice accompaniment to a warm bowl of soup. And you can save any small, broken pieces to sprinkle on salads for a nice crunch!
Free Guide To Beating Candida
Sign up to our free, 8-part email course today, and learn how to create your own, personalized Candida treatment plan :)
Quinoa and Buckwheat Crackers
Course:
Bread, Crackers, Side Dish, Snack
Servings
:
4
ten-inch crackers
Ingredients
1

cup

quinoa flour, plus more for rolling out dough

1/2

cup

light buckwheat flour

1

tsp.

psyllium husk powder

1

tsp.

salt

2

Tbsp.

olive oil

1/2

cup

water

Dried herbs of your choice (optional)
Instructions
Preheat oven to 425 degrees F ( 220 degrees C ). If you have a pizza stone, place it in the oven as it is preheating.

In a large bowl, add quinoa flour, light buckwheat flour, psyllium husk powder and salt. Whisk to combine.

Add olive oil and work it in with your fingers until mixture resembles a course meal. Then add water and stir until dough is thoroughly combined.

Turn dough out onto a lightly floured surface and knead until it comes together into a smooth ball, about a minute.

Divide dough into four portions. Working with one portion at a time, shape dough into a flat disc, sprinkle both sides liberally with quinoa flour, then place disc between two pieces of parchment paper.

Roll out dough disc as thin as you can, sprinkling with more quinoa flour as needed to keep dough from sticking to parchment paper. Carefully remove the top piece of parchment paper, and sprinkle dough with dried herbs (optional).

Transfer bottom piece of parchment paper with dough onto a baking sheet or onto preheated pizza stone. Bake cracker for 7 to 8 minutes, or until edges begin to brown. Repeat with remaining portions of dough.

Cool crackers for an hour, then break into pieces and serve.
These healthy crackers are just the kind of food that will improve your gut health, while preventing cravings for any of your old 'unhealthy' foods. Our Ultimate Candida Diet program contains more than 100 gluten-free, sugar-free recipes just like this, plus lots of valuable advice on symptoms, treatment options, and more. Find out more here.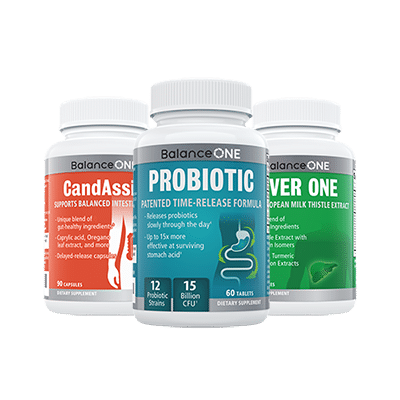 3-Month Candida Elimination Kit
Start Your 3-month Candida Cleanse
This Candida Kit contains all the supplements recommended on the Candida Diet:
- LIVER ONE to process and remove the toxins created by Candida.
- CANDASSIST to inhibit and weaken the Candida colonies in your gut.
- PROBIOTIC to replace the Candida yeast with probiotic bacteria.
Plus... the CANDIDA DIET RECIPE BOOK with 50+ low-sugar recipes
Comments