Raw Avocado And Cucumber Soup
This is a soup that incorporates some of the most helpful foods you can eat on the Candida diet. Avocado is filling, nutritious, and a great way to feel satisfied all through the diet. Plain probiotic yogurt helps to repopulate your gut with good bacteria, boosting your immunity and improving digestion. Lastly, garlic is an antifungal that has been linked to a wide range of health benefits.
This soup is best served cold, similarly to other vegetable soups like gazpacho. That makes it perfect for balmy summer evenings when you feel like something refreshing and light.
This soup is particularly good for gut health, thanks to the fact that it contains both antifungal and probiotic ingredients. The onion and the garlic are both antifungals that will help to keep a yeast overgrowth at bay, while the plain yogurt is packed full of probiotic bacteria that will help to rebalance your gut flora.
Give this tasty soup a try, and your gut will thank you!!
Raw Avocado And Cucumber Soup
Ingredients
2

large avocados

½

cucumber

¼

onion

½

cup

plain yogurt

2

garlic cloves

1 ½

cups

cold water

Salt and pepper to taste
Instructions
Scoop out the avocado flesh and chop up the cucumber and onion into large pieces.

Add the avocado, cucumber, onion, yogurt, garlic, water and seasoning to the blender.

Puree and serve.
My Ultimate Candida Diet program includes more than 100 tasty recipes for every meal and every stage of the Candida diet. They are gluten-free, sugar-free, and absolutely delicious! Dr Wood and I have also included lots of valuable advice on how to beat Candida, and which foods to eat and avoid.
Free Guide To Beating Candida
Sign up to our free, 8-part email course today, and learn how to create your own, personalized Candida treatment plan :)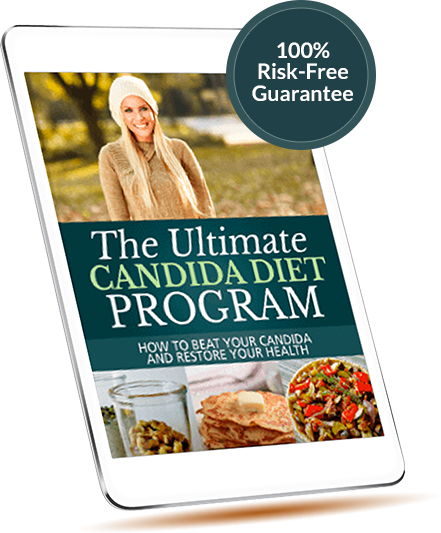 Beat your candida in 60 days
with this detailed 5-step program
If you're looking for a more comprehensive Candida treatment plan, check out the Ultimate Candida Diet program, written by Lisa Richards and Dr Eric Wood. This plan is based on the latest research into Candida Related Complex, and contains everything you need to know to beat your Candida overgrowth.