Candida & Prescription Medication: Pros & Cons
Sometimes, despite your best efforts, it may be time to consider a prescription intervention, at least for a period of time, to help get a Candida infestation under control. However, many people are not given the full story when considering medications.
Today we will talk about some of the pros and cons of commonly suggested and prescribed medications for Candida problems. These medications include: Diflucan, Nystatin, Sporanox, and Nizoral. The first two of these are the most commonly used, so we will primarily focus on them.
Why Take Diflucan Or Nystatin?
As you would expect, both of these medications are intended to either kill the Candida microorganisms, or stop them from further propagating and causing more health problems.
Diflucan is typically considered to be more of a killing, or 'fungicidal' agent. Nystatin, on the other hand, is more focused on stopping the growth, and is therefore known as a 'fungistatic' medication. Like all medications, both come with pros and cons in their use.
Both of these medications can be very useful in helping individuals get a quicker handle on this overgrowth than may be the case with lifestyle and supplemental interventions. This can be particularly helpful when symptoms are more severe and the overgrowth has been established for longer periods. However, the longer you are on these medications and the higher the dose, the greater the likelihood of potential complications and side effects as well.
Free Guide To Beating Candida
Sign up to our free, 8-part email course today, and learn how to create your own, personalized Candida treatment plan :)
Side Effects Of Diflucan And Nystatin
In certain instances it may be necessary to use either Diflucan or Nystatin to get a better handle on things. But as a long-term curative strategy, there are considerable concerns with using a pharmaceutical route to 'cure' a Candida overgrowth. Let's take a look at Diflucan first.
Diflucan causes high rates of side effects, with nearly 1 in 7 reporting reactions such as severe rashes, itching, skin inflammation, nausea and abdominal pain, dizziness, jaundice, and liver problems. In particular, Diflucan is noted for elevating liver enzymes. In more severe and rare cases, it can instigate cholestasis, hepatitis, and even hepatic failure in already weakened patients.
Nystatin typically does not create so many side effects as Diflucan, but the list is still fairly lengthy. They can include: diarrhea, nausea, vomiting, stomach upset, allergy, rash, itching and swelling, and complications for those already dealing with AIDS/HIV, kidney disease, or diabetes.
Both Diflucan and Nystatin interact with a fair number of medications, including HIV medications in particular. It you are using any other medications, you should discuss any possible interactions with your physician before deciding if Diflucan or Nystatin are a safe and appropriate choice for you.
For both of these medications, the longer and higher the dose you are on, the greater the chance is of seeing adverse reactions. Some reactions can also be cumulative over time. This is relevant if you were previously on Diflucan or Nystatin, stopped your medication for a period of time, then restarted it. In such later courses, the risk of side effects is likely greater due to prior use of the medication.
Have You Done A Cost Benefit Analysis?
How do you know if you should use one of these medications to help get your Candida symptoms and overgrowth under control?
First of all, you need to be very honest with yourself about your situation and how severe it is. Are your symptoms really out of control? Are you struggling to just get through the day? Or, even though your symptoms are irritating, are they mild enough for you to manage OK?
Furthermore, do you have any other conditions that might increase your odds of having reactions to the medication? Be conscious of conditions like HIV prescriptions, kidney disease, diabetes, hepatitis, or hypersensitive skin.
As with any medical condition, it would be wise to review such concerns and considerations with your health care provider, including ideally an integrative doctor. If you do this, it is important to share your full story including the severity of your symptoms and any medication that you are taking. Get a full understanding of all the options available to you, and then make a reasoned decision after being aware of all these considerations.
In general, if your case is not severe, it is probably best to reserve medications like Diflucan or Nystatin for later. They will be there if you need them. In the meantime, you can try the lifestyle interventions (diet, probiotics, etc.) as well as natural antifungals that work well and largely come without any of the complications and risks of pharmaceutical medication.
In more severe cases, you'll need to carefully weigh these pros and cons with your healthcare provider and make a decision that you're both comfortable with. If you choose to use Diflucan or Nystatin, be sure to monitor your liver enzymes and other blood parameters to ensure that you're not experiencing any of the more unpleasant side effects.
If you prefer to avoid prescription antifungals, there is still a pathway to getting a Candida overgrowth under control. Along with Dr. Eric Wood, I created a comprehensive Candida treatment program that incorporates diet, lifestyle changes, probiotics, enzymes, natural antifungals, and much more.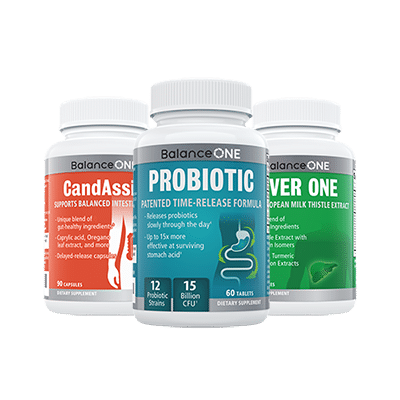 3-Month Candida Elimination Kit
Start Your 3-month Candida Cleanse
This Candida Kit contains all the supplements recommended on the Candida Diet:
- LIVER ONE to process and remove the toxins created by Candida.
- CANDASSIST to inhibit and weaken the Candida colonies in your gut.
- PROBIOTIC to replace the Candida yeast with probiotic bacteria.
Plus... the CANDIDA DIET RECIPE BOOK with 50+ low-sugar recipes
Comments