One of the most common questions we receive is, "How do I get relief from these Candida symptoms?"
By giving your liver the support that it needs, you can eliminate many of the symptoms like fatigue, bloating, and brain fog that are associated with an intestinal yeast overgrowth.
To understand why this is, we need to take a closer look at the reasons why those symptoms are appearing.
Most Candida symptoms result from the toxic metabolites produced by Candida albicans. These are created as part of Candida's lifecycle, and include acetaldehyde, uric acid, ammonia, and more.
Your body is usually very capable of dealing with these toxins. Your liver, which is the most important detoxification organ, processes them and gets them ready to be excreted from your body.
Free Guide To Beating Candida
Sign up to our free, 8-part email course today, and learn how to create your own, personalized Candida treatment plan :)
A good example is acetaldehyde. This neurotoxin, which is also a product of alcohol metabolism, is produced by Candida albicans in relatively large amounts. Inside your liver, an enzyme named Aldehyde oxidase converts it into acetic acid, which can then be used or expelled.
For this process to happen efficiently, you need a trace mineral named molybdenum. This is commonly found in many foods, but in some circumstances your body needs extra support. For example, if you have a long-running yeast overgrowth that has been producing acetaldehyde for years, it's very possible that you are low in molybdenum.
If your body doesn't have enough of this important trace mineral, you might experience headaches, brain fog, and other common Candida symptoms.
How to Support Your Liver
That's just one example of how your liver can end up overloaded, stressed, and unable to do its job properly.
There are herbal supplements and minerals that will provide the liver support that you need. We have recommended these for years as part of our Ultimate Candida Diet program. They include milk thistle extract, molybdenum, dandelion extract, and more.
Sourcing these supplements used to be challenging, and many Candida sufferers would only choose one or two supplements to give them relief from their symptoms. By doing this, they would miss out on the benefits offered by the others.
That's why I recommend Liver One by Balance One Supplements, which contains all of those liver support ingredients. It's convenient, economical, and the best choice for Candida.
You can find Liver One on Amazon or the Balance ONE website.
Liver One by Balance ONE
Liver One (previously named Liver Support) contains a range of liver-supportive ingredients. Each of these ingredients is scientifically proven to promote detoxification and liver support. Here's a list:
Milk thistle extract
Molybdenum
Artichoke Leaf
Turmeric Root
Dandelion Root
Yellow Dock Root
Beet Root
Ginger Root
Choline
Selenium
If you're suffering from Candida and looking to get relief from your symptoms, this supplement contains all the scientifically-backed, liver-supportive ingredients that you need.
Let's take a closer look at some of those ingredients:
Milk thistle extract stimulates protein synthesis in your liver, helping to repair damaged liver cells and restoring their function. It actively protects your liver cells, and encourages the growth of new liver cells. Milk thistle is regularly used for cirrhosis, liver poisoning and viral hepatitis, and is widely used in the medical community.
Liver One uses standardized European milk thistle extract. It's a high quality, concentrated form of milk thistle that contains at least 80% silymarin and the 6 most important silymarin isomers – Silybin A and B, silychristin, silydianin, isosilybin A and B.
Molybdenum is the most effective substance you can take to eliminate acetaldehyde, the neurotoxin that causes many Candida symptoms. The 'glycinate' form of molybdenum, which this supplement uses, tends to be best absorbed and tolerated.
Here are a few other important points about Liver One:
Free of allergens like dairy, soy, nuts, wheat, and gluten.
Free of preservatives, and artificial colors and flavors.
Non-GMO and vegan.
Made in Oregon, USA, in an GMP-certified, NSF-approved facility.
Rigorous quality control at every step of the manufacturing process.
Where Can You Find Liver One by Balance ONE?
I'm confident that Liver One is the best supplement on the market for getting relief from Candida symptoms. You won't find this combination of ingredients in any other supplement.
If you'd like to try Liver One, you can find it for sale on Amazon or the Balance ONE website.
Let me know how it works for you!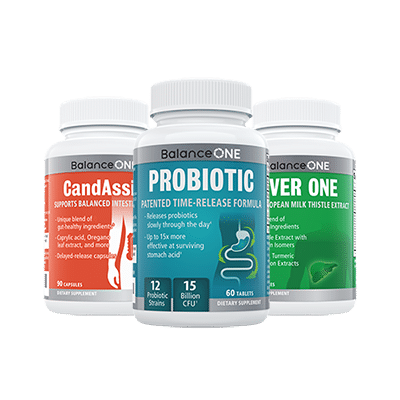 3-Month Candida Elimination Kit
Start Your 3-month Candida Cleanse
This Candida Kit contains all the supplements recommended on the Candida Diet:
- LIVER ONE to process and remove the toxins created by Candida.
- CANDASSIST to inhibit and weaken the Candida colonies in your gut.
- PROBIOTIC to replace the Candida yeast with probiotic bacteria.
Plus... the CANDIDA DIET RECIPE BOOK with 50+ low-sugar recipes
Comments