This is a simple soup recipe that is perfect for the first stages of your Candida diet. The garlic, onion and olive oil all have antifungal properties. Soups are a great way to combine lots of nutritious vegetables in a healthy, filling meal, and this soup is no exception.
Zucchinis have a fairly neutral flavor that actually makes them really versatile vegetable, particularly in soups and juices. If you have a spiralizer, you can even make zucchini noodles. And zucchini can form the 'pasta' section of a gluten-free lasagna.
There is nothing in this recipe that will harm your gut health or contribute to any type of gut dysbiosis like Candida. In fact, the onion, garlic, and olive oil all have antifungal properties that can actively improve your gut health. Give it a try, and your digestive system will thank you!
Zucchini & Onion Soup
Ingredients
2

zucchinis

1

onion

2

garlic cloves

2

Tbsp.

olive oil

Sea salt
Instructions
Steam the zucchini and onions.

Puree the zucchini, onion, garlic cloves, olive oil and salt in your blender. Add water for desired consistency.

Pour in bowl and serve.
Healthy meals like this are an excellent option for a light snack on the Candida diet. Our Ultimate Candida Diet program is packed full of gluten-free, sugar-free recipes like this. It contains more than 100 recipes in total, and they're all perfect for the Candida diet. Find out more here.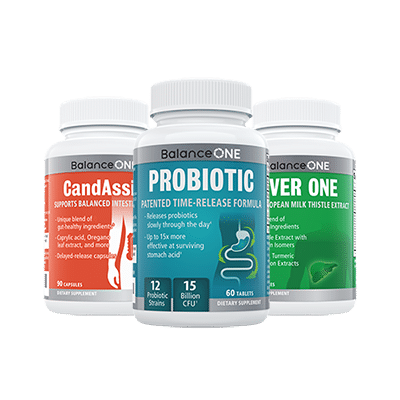 3-Month Candida Elimination Kit
Start Your 3-month Candida Cleanse
This Candida Kit contains all the supplements recommended on the Candida Diet:
- LIVER ONE to process and remove the toxins created by Candida.
- CANDASSIST to inhibit and weaken the Candida colonies in your gut.
- PROBIOTIC to replace the Candida yeast with probiotic bacteria.
Plus... the CANDIDA DIET RECIPE BOOK with 50+ low-sugar recipes
Comments