Yellow Squash Noodles With Meatballs And Olive Tapenade
There's no need to miss out on pasta when you can make delicious noodles from a variety of vegetables. Yellow squash noodles not only look like the real thing, you'll be surprised at how similar the flavor and texture is to pasta. Choose a long and narrow squash, as larger ones have seeds and won't make nice long strands. Narrower squash are also easier to use with a spiralizer.
To make your yellow squash noodles, you'll need a spiral slicer, julienne peeler or mandolin. It doesn't have to be squash – you can also make this recipe with zucchini. There are lots of benefits to making your own vegetable noodles instead of using regular noodles. They are much lower on the glycemic index, are much more nutritious, and are completely gluten-free.
You can simply dress these yellow squash noodles with a spoonful of olive tapenade and a splash of olive oil for a light meal. Or serve with a batch of meatballs for a heartier appetite. For another spiralizer-inspired recipe, check out my zucchini noodles with grilled steak. Enjoy!
Yellow Squash Noodles with Meatballs and Olive Tapenade
Ingredients
INGREDIENTS FOR YELLOW SQUASH NOODLES WITH MEATBALLS
½

lb.

ground beef

2

Tbsp.

onion, finely chopped

1

clove

garlic, minced

1

Tbsp.

fresh parsley, finely minced

1

egg yolk

½

tsp.

salt

¼

tsp.

pepper

4

Tbsp.

oil, such as olive or coconut

2

medium yellow squash cut into noodles with a spiral slicer, julienne peeler or mandolin

2

Tbsp.

Olive Tapenade (see recipe below)

Minced fresh parsley or basil for garnish
INGREDIENTS FOR OLIVE TAPENADE
1

cup

black olives, packed in water

2

Tbsp.

olive oil

2

tsp.

lemon juice

1

clove

garlic, minced

Salt
Instructions
DIRECTIONS FOR YELLOW SQUASH NOODLES WITH MEATBALLS
Preheat the oven to 250 degrees F (120 degrees C).

In a large skillet, heat 1 tablespoon of oil over medium heat. Sauté onion for three minutes or until it becomes translucent. Then add garlic and sauté for one minute. Remove skillet from heat, set aside.

In a large mixing bowl, add ground beef, sautéed onion and garlic, minced parsley, egg yolk, salt and pepper and mix until just combined. Divide meat mixture into 8 to 10 equal portions, depending on how large or small you want your meatballs. Roll each portion into balls.

Heat 2 tablespoons of oil over medium heat in the same skillet used to sauté onion and garlic. Brown meatballs on all sides, about 8 to 10 minutes. Transfer meatballs to a platter and keep in warm oven until ready to serve.

Wipe out skillet with paper toweling. Heat remaining tablespoon of oil over medium heat. Add yellow squash noodles and cook for 2 to 3 minutes or until just tender. To finish, add 2 tablespoons of Olive Tapenade and a splash of olive oil, then toss to coat.

To serve, divide the yellow squash noodles onto two plates, top with meatballs, a spoonful of tapenade and a garnish of minced fresh parsley or basil.
DIRECTIONS FOR OLIVE TAPENADE
In the bowl of a food processor, combine all ingredients and pulse mixture until it resembles a coarse paste. Store tapenade in refrigerator in an airtight container for up to 2 weeks.
My Ultimate Candida Diet program (learn more here) is packed full of gluten-free, sugar-free recipes. It has detailed food lists, and lots of advice on how to follow an effective, safe Candida treatment program.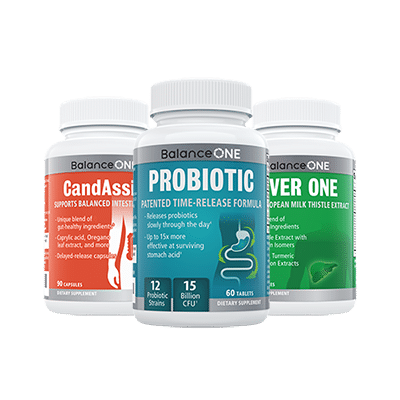 3-Month Candida Elimination Kit
Start Your 3-month Candida Cleanse
This Candida Kit contains all the supplements recommended on the Candida Diet:
- LIVER ONE to process and remove the toxins created by Candida.
- CANDASSIST to inhibit and weaken the Candida colonies in your gut.
- PROBIOTIC to replace the Candida yeast with probiotic bacteria.
Plus... the CANDIDA DIET RECIPE BOOK with 50+ low-sugar recipes
Comments