Vegan, Low-Carb Eggplant Curry
Making Indian cuisine at home is far tastier and healthier than take-out! This delicious eggplant curry is vegan, full of nutritious ingredients, and a delicious low-carb choice for your Candida diet.
Since eggplant has the starring role in this curry dish, take the time to choose the freshest one you can find. When shopping for an eggplant, be sure to look for one that has a nice green stem, is firm to the touch, shiny and deep in color.
Our eggplant curry is a satisfying dish, full of colorful vegetables and a delicious homemade sauce. And it has a little kick of heat that will simply make you want more. Eggplant and tomatoes simmer in a warming, fragrant combination of classic Indian spices and vegetable broth.
This easy curry dish has a soft, luscious texture and a rich, flavorful sauce that is perfect for pouring over gluten-free pseudo grains such as quinoa or millet.
This dish is a great make-ahead meal, allowing the flavors to develop more fully and get richer with time. It can be refrigerated in an airtight container for up to three days. It is also freezer-friendly, so you can save time and get a welcome break from cooking during the week. Just make an extra batch, then thaw your curry overnight in the refrigerator and reheat the next day.
Free Guide To Beating Candida
Sign up to our free, 8-part email course today, and learn how to create your own, personalized Candida treatment plan :)
Eggplant Curry
Ingredients
2

Tbsp.

oil, such as coconut or olive

1

large onion, diced, about 1 1/2 cups

1

tsp.

curry powder

1

tsp.

turmeric

1

tsp.

ground coriander

1

tsp.

ground cumin

1

tsp.

salt

3

garlic cloves, finely minced

A 1 inch piece of fresh ginger, peeled and finely minced

2

large tomatoes, diced

1

large eggplant, about 1 1/2 pounds, cut into 1 inch pieces

1

jalapeño pepper, seeded and finely minced

1

cup

vegetable broth or water

Red pepper flakes

Fresh minced basil
Instructions
In a large skillet, heat the oil over medium high heat. Add the onion and sauté, stirring often, until softened, about 6 minutes.

Next add the curry powder, turmeric, ground coriander, ground cumin, salt, minced garlic and ginger. Sauté, stirring until fragrant, about 2 minutes.

Then add the diced tomatoes, eggplant and jalapeño pepper. Stir the mixture to combine thoroughly.

Finally add the broth or water and bring the mixture to a boil. Reduce heat to medium low and simmer, covered, until the eggplant is tender, about 12 to 15 minutes.

Garnish the curry with red pepper flakes and fresh minced basil. Serve with either cooked quinoa or millet.
Curries are a delicious option for low-carb diets like the Candida diet. The flavors and ingredients make them both satisfying and healthy. You can find more than 100 Candida diet recipes just like this in our Ultimate Candida Diet program, which I created with Dr Eric Wood.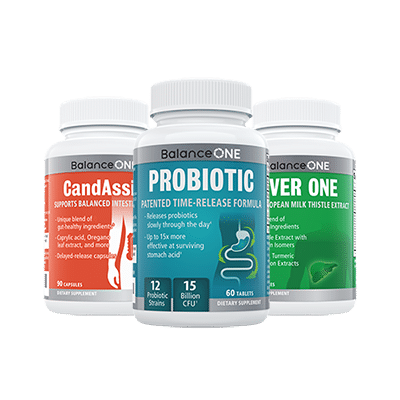 3-Month Candida Elimination Kit
Start Your 3-month Candida Cleanse
This Candida Kit contains all the supplements recommended on the Candida Diet:
- LIVER ONE to process and remove the toxins created by Candida.
- CANDASSIST to inhibit and weaken the Candida colonies in your gut.
- PROBIOTIC to replace the Candida yeast with probiotic bacteria.
Plus... the CANDIDA DIET RECIPE BOOK with 50+ low-sugar recipes
Comments