Thai Red Curry Chicken is a colorful dish that combines fresh ingredients and aromatic herbs over a classic mix of spices and mellowed with rich coconut milk. Be sure to serve with the traditional accompaniment, Thai Cucumber Salad, as a refreshing side dish. Made in 30 minutes, Thai Red Curry Chicken is perfect for a weeknight dinner.
This dish is a wonderful example of taking some very simple ingredients – chicken, pepper, and quinoa – and using spices to transform them into an appetizing meal.
As you can see, meal preparation on the Candida diet can be simple but rewarding. There's no need to use lots of added sugars, gluten, or any other ingredients that could worsen your gut health. Tasty meals are just a few herbs and spices away!
Note that this recipe includes the use of red curry paste. There are lots of great brands to choose from, but I use Thai Kitchen red curry paste. It's gluten-free, dairy-free, and vegan, and its ingredients are all suitable for the Candida Diet. Lastly, when you slice the chicken breasts you should do it when they are partially frozen, as this makes it much easier to get really thin slices.
Thai Red Curry Chicken
Ingredients
1

Tbsp.

coconut oil

¼

yellow onion, thinly sliced

½

red pepper, cut into matchstick strips

½

yellow pepper, cut into matchstick strips

2-3

Tbsp.

red curry paste

2

boneless, skinless chicken breasts, thinly sliced

2

cups

coconut milk

¼

cup

basil leaves

Cooked quinoa
Instructions
Heat oil in a large skillet over medium heat. Add onion, red and yellow peppers and sauté, stirring frequently, until vegetables begin to soften, about 5 minutes.

Add curry paste to vegetables and cook, stirring to incorporate, for about 1 minute. Add sliced chicken, sauté in mixture for another minute.

Add coconut milk, bring mixture to a boil. Lower heat and simmer until vegetables are tender and chicken is cooked through, about 10 minutes.

Add basil leaves, reserving a few for a garnish. Serve with cooked quinoa and cucumber salad.
Recipe Notes
Thai Kitchen brand red curry paste is gluten free, dairy free, vegan and its ingredients are Candida Diet friendly.

Slice chicken breasts while partially frozen to get paper thin slices.
Curries and stews are excellent options for evening meals on the Candida diet. Our Ultimate Candida Diet program is packed full of gluten-free, sugar-free recipes like this. It contains more than 100 recipes in total, and they're all perfect for the Candida diet. Find out more here.
Free Guide To Beating Candida
Sign up to our free, 8-part email course today, and learn how to create your own, personalized Candida treatment plan :)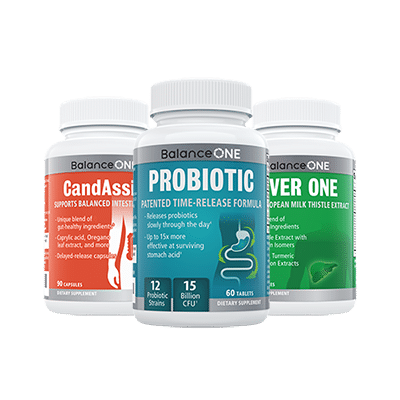 3-Month Candida Elimination Kit
Start Your 3-month Candida Cleanse
This Candida Kit contains all the supplements recommended on the Candida Diet:
- LIVER ONE to process and remove the toxins created by Candida.
- CANDASSIST to inhibit and weaken the Candida colonies in your gut.
- PROBIOTIC to replace the Candida yeast with probiotic bacteria.
Plus... the CANDIDA DIET RECIPE BOOK with 50+ low-sugar recipes
Comments