This tasty cucumber salad is so simple to put together, but its a wonderful accompaniment to any spicy, Asian dishes that you like to make at home. It works perfectly with my Thai Red Curry Chicken.
This is a light, nutritious recipe that you could even eat by itself as a lunch time snack. To make it a little more filling you might consider sprinkling some nuts on top.
One of the most appealing things about this dish is that it only takes a few minutes to make. Anything that means less time in the kitchen has to be a welcome bonus!
The recipe calls for a little vinegar, but we can use Apple Cider Vinegar instead of the regular white vinegar that's on the foods to avoid list. And the sweetness comes from a small amount of stevia rather than added sugar. You can make and refrigerate this salad a couple of hours before your meal, and it will still taste fresh and delicious.
Thai Cucumber Salad
Ingredients
1

cucumber, thinly sliced or spiral cut into wide ribbons

¼

red onion, thinly sliced

1

Tbsp.

apple cider vinegar

½

tsp.

stevia powder

¼

tsp.

salt

¼

tsp.

white pepper

Red pepper flakes to taste
Instructions
Thinly slice cucumber and red onion, place in a medium bowl, set aside.

In a small bowl, combine apple cider vinegar, stevia powder, salt and white pepper, whisk until stevia and salt have dissolved.

Pour vinegar mixture over cucumber and red onion slices, stir vegetables to evenly coat. Sprinkle salad with red pepper flakes. Serve at once or refrigerate for 1 to 2 hours before serving.
My Ultimate Candida Diet program contains more than 100 tasty recipes for every meal and every stage of the Candida diet. They are gluten-free, sugar-free, and absolutely delicious! Dr Wood and I have also included lots of valuable advice on how to beat Candida, and which foods to eat and avoid.
Free Guide To Beating Candida
Sign up to our free, 8-part email course today, and learn how to create your own, personalized Candida treatment plan :)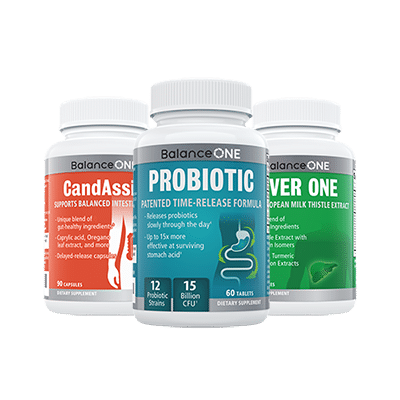 3-Month Candida Elimination Kit
Start Your 3-month Candida Cleanse
This Candida Kit contains all the supplements recommended on the Candida Diet:
- LIVER ONE to process and remove the toxins created by Candida.
- CANDASSIST to inhibit and weaken the Candida colonies in your gut.
- PROBIOTIC to replace the Candida yeast with probiotic bacteria.
Plus... the CANDIDA DIET RECIPE BOOK with 50+ low-sugar recipes
Comments