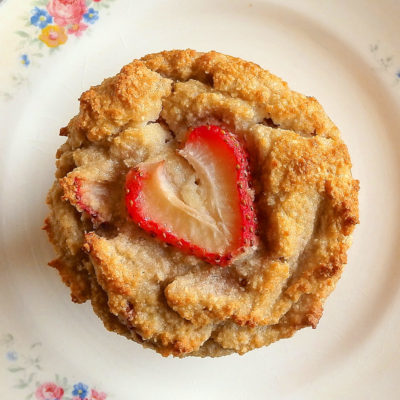 Moist and full of fresh strawberry flavor, these muffins make a delightful treat. They're perfect for a healthy breakfast, snack, or dessert, and the kids will love them!
Strawberries are on the Maybe list of foods to eat. They are one of the lowest-sugar fruits that you can find and, along with other berries like blueberries, are a good way to introduce some fruit into your diet.
Add in the coconut milk, coconut oil, and coconut flour, and you have a fiber-rich, low-sugar snack that all the family will love.
All the coconut ingredients have another benefit too. They all have antifungal properties, meaning that they can help to slow or prevent a yeast overgrowth in your gut. Ingredients like this can improve your long-term gut health.
You can make a large batch of these strawberry muffins and freeze them for eating later. Take them on a picnic, or just keep them in the house for those between-meal hunger pangs. Just remember to make enough!
Free Guide To Beating Candida
Sign up to our free, 8-part email course today, and learn how to create your own, personalized Candida treatment plan :)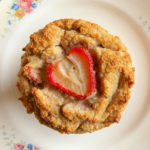 Strawberry Muffins
Moist and full of fresh strawberry flavor, these muffins make a delightful treat, perfect for breakfast, a snack or dessert.
Ingredients
1/2

cup

coconut flour

1/4

tsp.

baking soda

Pinch of salt

1/2

cup

unsweetened, canned coconut milk

1/2

tsp.

powdered stevia

2

Tbsp.

coconut oil, melted

3

eggs

1/2

tsp.

vanilla

1/2

cup

diced fresh strawberries

6

fresh strawberry slices for garnish
Instructions
Preheat oven to 350 degrees F (175 degrees C). Line 6 cups of a 12 cup muffin tin with paper baking cups or brush generously with oil, set aside.

In a medium bowl, sift coconut flour, baking soda and salt, whisk to combine. In another medium bowl, add unsweetened coconut milk, stevia, melted coconut oil, eggs, and vanilla, whisk thoroughly. Pour liquid ingredients into bowl with dry ingredients, stir to combine for one minute as coconut flour absorbs liquids. Fold diced strawberries into muffin batter.

Spoon muffin batter into the prepared tin, smoothing tops, then press a strawberry slice on the top of each. Bake muffins until golden brown, about 30 to 35 minutes. Cool, serve.
Nutritious, tasty snacks like this are what the Candida diet is all about. If you're looking for more ideas, check out our Ultimate Candida Diet program. It includes more than 100 tasty recipes for every meal and every stage of the Candida diet.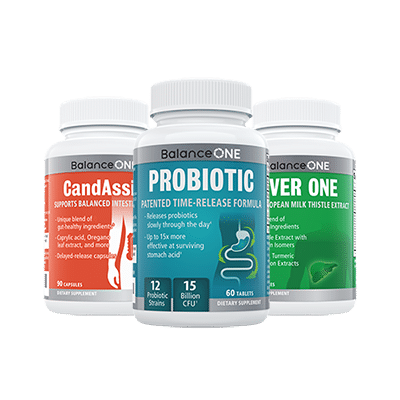 3-Month Candida Elimination Kit
Start Your 3-month Candida Cleanse
This Candida Kit contains all the supplements recommended on the Candida Diet:
- LIVER ONE to process and remove the toxins created by Candida.
- CANDASSIST to inhibit and weaken the Candida colonies in your gut.
- PROBIOTIC to replace the Candida yeast with probiotic bacteria.
Plus... the CANDIDA DIET RECIPE BOOK with 50+ low-sugar recipes
Comments