Buckwheat Soba Noodle Bowl
Popular in Japan, soba noodles are made from buckwheat flour. They are a good source of nutrients like manganese, lean protein, and thiamine. Since buckwheat is a gluten-free grain, soba noodles are a good choice for people following the Candida diet.
When shopping for soba noodles be sure to read the ingredient labels carefully as some soba noodles are made with a combination of buckwheat and wheat flours. Brands like Eden, which contains 100% Buckwheat Soba Noodles, are a good choice.
This recipe also contains a bunch of delicious veggies, full of the nutrients that your body needs to maintain your energy levels and support a healthy immune system. And it's garnished with cilantro, sesame seeds, and coconut aminos to give it a tasty Asian flavor.
Buckwheat Soba Noodle Bowl
Ingredients
Noodles
4

oz.

soba noodles, cooked

1/2

tsp.

sesame oil
Vegetables
2

Tbsp.

oil, such as coconut or olive

1/4

cup

finely diced shallot

1

summer squash, halved lengthwise and cut into half-moons

1

zucchini squash, halved lengthwise and cut into half-moons

1

celery rib, thinly sliced

1/4

cup

diced yellow pepper

4 to 5

shiitake mushrooms, thinly sliced

Pinch

of salt
Garnish
2

Tbsp.

fresh minced cilantro

1

Tbsp.

sesame seeds

Splash of coconut aminos
Instructions
Prepare soba noodles as directed on package. Transfer noodles to a bowl, add sesame oil, toss, set aside.

In a large skillet, heat oil over medium heat. Add shallot, summer squash, zucchini squash, celery, yellow pepper, shiitake mushrooms and a good pinch of salt, then sauté until vegetables soften and just begin to brown, about 6 to 8 minutes.

To serve, transfer noodles to a serving platter and top with sautéed vegetables. Garnish with minced cilantro, sesame seeds and a splash of coconut aminos.
Recipe Notes
For another variation, soba noodles can be served cold with our cucumber salad.
Filed under: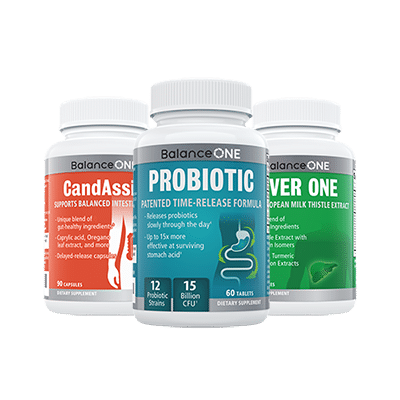 3-Month Candida Elimination Kit
Start Your 3-month Candida Cleanse
This Candida Kit contains all the supplements recommended on the Candida Diet:
- LIVER ONE to process and remove the toxins created by Candida.
- CANDASSIST to inhibit and weaken the Candida colonies in your gut.
- PROBIOTIC to replace the Candida yeast with probiotic bacteria.
Plus... the CANDIDA DIET RECIPE BOOK with 50+ low-sugar recipes
Comments