Satay Chicken Bowl With Almond Sauce
The simplicity of a one bowl meal can be a real comfort after a busy day. This chicken satay dish is a vibrant bowl that incorporates crisp greens, fresh vegetables, slivered almonds, marinated chicken, and nutty quinoa. All these delicious ingredients are tossed in a sweet and spicy almond sauce.
All of these ingredients are acceptable on the Candida diet. It's a tasty way to incorporate antifungal foods like coconut milk, garlic, turmeric, ginger, and olive oil. And of course you can substitute in any other acceptable ingredients that you wish.
When you make this recipe, you can save time by making the quinoa and almond sauce ahead. Also consider marinating your chicken the night before, or in the morning before you leave for work. With a little prep work in the evening, dinner will ready in less than 30 minutes. Relax and unwind with a meal that only requires a bowl and a fork!
Satay Chicken Bowl With Almond Sauce
Ingredients
INGREDIENTS FOR CHICKEN SATAY BOWL
8

ounces

boneless, skinless chicken breast or chicken tenders, partially frozen, cut into 1 inch cubes

Zest and juice of 1 lime

1

Tbsp.

coconut aminos

1

clove

garlic, thinly sliced

1

tsp.

ginger, fresh grated

¼

tsp.

powdered turmeric

1

Tbsp.

olive oil

Salt to taste

1

cup

cooked quinoa

2

cups

mixed greens

½

cup

thinly sliced red cabbage

¼

cup

each of green onion, celery, cucumber, and yellow pepper, thinly sliced

2

Tbsp.

slivered almonds

Fresh cilantro and Thai basil, finely minced

Lime wedges
INGREDIENTS FOR ALMOND SAUCE
¼

cup

almond butter

¼

cup

canned coconut milk

2

Tbsp.

fresh lime juice

2

Tbsp.

coconut aminos

¼

tsp.

minced garlic

¼

tsp.

powdered stevia

1

pinch

red pepper flakes
Instructions
DIRECTIONS FOR CHICKEN SATAY BOWL
Cut partially frozen boneless, skinless chicken breast or chicken tenders into 1 inch cubes, set aside.

In a medium bowl, add lime zest and juice, coconut aminos, sliced garlic, grated ginger and powdered turmeric, whisk to combine. Add cubed chicken, toss to coat, cover and refrigerate 8 hours or overnight.

In a medium skillet, heat olive oil over medium high heat. Add chicken and cook until nicely browned on all sides, about 7 to 10 minutes. Remove chicken from skillet, season with salt to taste, set aside.

In a small bowl, add thinly sliced red cabbage, green onion, celery, cucumber, yellow pepper and slivered almonds. Toss to combine, set aside.

Divide all ingredients, cooked chicken cubes, quinoa, mixed greens, mixed vegetables/slivered almonds, between two bowls, arranging in sections as shown in photo. Garnish with finely minced cilantro,Thai basil and lime wedges. Serve immediately with Almond Sauce (see below) on the side.
DIRECTIONS FOR ALMOND SAUCE
Combine all ingredients in a small saucepan. Simmer sauce over medium heat, 2 to 3 minutes, whisking constantly until smooth and creamy, remove from heat.

If necessary, thin with 1 to 2 tablespoons of water or 1 tablespoon each of coconut aminos and fresh lime juice.

Serve sauce warm or at room temperature. Garnish with a pinch of red pepper flakes. If not using right away, store in an airtight container in the refrigerator.

Looking for more gluten-free, sugar-free recipes? My Ultimate Candida Diet program contains more than 50 delicious recipes, plus lots of valuable advice on which foods to eat and avoid. Find out more here.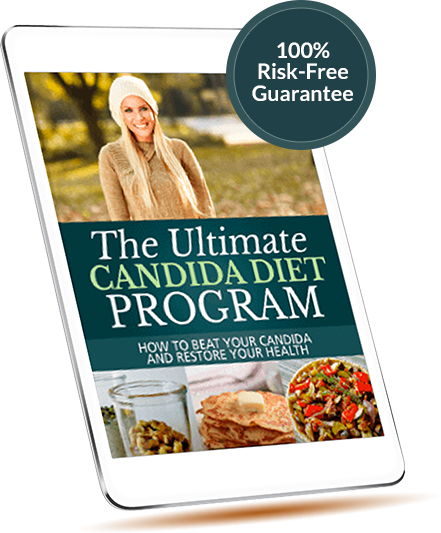 Beat your candida in 60 days
with this detailed 5-step program
If you're looking for a more comprehensive Candida treatment plan, check out the Ultimate Candida Diet program, written by Lisa Richards and Dr Eric Wood. This plan is based on the latest research into Candida Related Complex, and contains everything you need to know to beat your Candida overgrowth.
Comments