Latkes, or potato pancakes fried in oil, need not necessarily be made from potatoes. These Candida Diet versions use rutabaga (an antifungal food sometimes known as Swede) with hemp seeds for added protein. The latkes are lightly fried in olive oil, then finished in a warm oven until crispy and ready to serve.
Rutabagas are one of a small group of vegetables that have antifungal properties. Others include onions, garlic, and leeks. Rutabagas are a starchy vegetable and would ordinarily be excluded from a low-carb diet like the Candida diet, but their antifungal qualities make them a valuable addition.
The flavor of rutabagas can be an acquired taste, which is why mixing them with some other healthy ingredients and lightly frying them is a great way to eat them. These latkes will be popular with the whole family.
You can enjoy these healthy snacks along with some sliced, crunchy vegetables like radishes on a bed of greens. Alternatively, dip them in some plain, probiotic yogurt and fresh herbs, or just eat them plain, right out of the skillet!!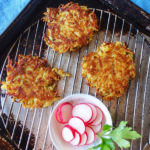 Rutabaga Latkes
Ingredients
1

lb.

peeled, grated rutabaga (approx. 3 cups)

1

scallion, minced

1

egg, lightly beaten

1

Tbsp.

coconut flour

3-4

Tbsp.

raw, shelled hemp seeds

1

tsp.

salt

Pepper to taste

A few gratings of fresh nutmeg

Olive oil for frying
Instructions
In a large bowl, add grated rutabaga, minced scallion, beaten egg, coconut flour, hemp seeds, salt, pepper and nutmeg. Mix well.

In a large skillet, heat a good tablespoon of olive oil between medium low and medium heat. Working in batches of 3 latkes, spoon about 2 tablespoons of mixture per latke into skillet, spreading into 3 to 4 inch rounds and frying until the edges begin to brown. Flip and fry until other side is golden brown. Repeat with remaining latke mixture, adding another good tablespoon of olive oil to the skillet for each batch.

When latkes are done frying, place in warm oven on wire racks on a rimmed baking sheet. This keeps latkes crispy until ready to serve.
Recipe Notes
Olive oil works best in this recipe for crispness and a rich golden color.
My Ultimate Candida Diet program contains more than 100 tasty recipes for every meal and every stage of the Candida diet. They are gluten-free, sugar-free, and absolutely delicious! Dr Wood and I have also included lots of valuable advice on how to beat Candida, and which foods to eat and avoid.
Free Guide To Beating Candida
Sign up to our free, 8-part email course today, and learn how to create your own, personalized Candida treatment plan :)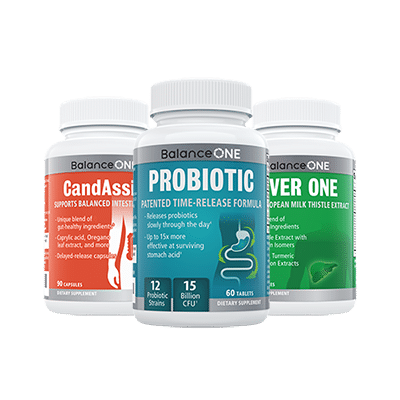 3-Month Candida Elimination Kit
Start Your 3-month Candida Cleanse
This Candida Kit contains all the supplements recommended on the Candida Diet:
- LIVER ONE to process and remove the toxins created by Candida.
- CANDASSIST to inhibit and weaken the Candida colonies in your gut.
- PROBIOTIC to replace the Candida yeast with probiotic bacteria.
Plus... the CANDIDA DIET RECIPE BOOK with 50+ low-sugar recipes
Comments