Quinoa Falafel with Tzatziki Sauce
This Candida Diet-friendly version of falafel, the popular Middle Eastern street food, replaces the traditional chickpeas with cooked quinoa.
Quinoa is a pseudo-grain that is an almost complete form of protein, and has a much better nutritional profile than grains like wheat or rice. It makes for a filling complement to many meals on the Candida diet.
These falafel are seasoned with the smoky flavors of cumin and coriander, then very quickly deep fried to crispy perfection in olive oil. Deep frying is not a cooking method that we would normally recommend while recovering from a Candida overgrowth, but if you do it lightly (and very occasionally) it should be OK.
They can be eaten as mezze, an appetizer before the main dish, alone as a snack wrapped in a lettuce leaf, or as part of a meal with a green salad.
Serve with a drizzle of tahini or tzatziki, a cool yogurt sauce with cucumber garlic and mint. A really simple tzatziki recipe is just underneath the falafel recipe. Enjoy!
Free Guide To Beating Candida
Sign up to our free, 8-part email course today, and learn how to create your own, personalized Candida treatment plan :)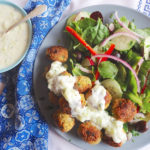 Quinoa Falafel
Ingredients
INGREDIENTS FOR QUINOA FALAFEL
2

cups

cooked quinoa

½

cup

minced onion

¼

cup

fresh parsley, finely chopped

1

clove

garlic, finely chopped

½

tsp.

ground cumin

½

tsp.

ground coriander

¼

cup

almond flour

3

Tbsp.

coconut flour

1

tsp.

salt

¼

tsp

pepper

2

eggs, lightly beaten

Olive oil for frying

Tzatziki (recipe below)
INGREDIENTS FOR TZATZIKI
2

cups

plain Greek style yogurt

1

small cucumber, peeled, grated

1

clove

garlic, finely chopped

1

Tbsp.

fresh mint, finely chopped

1

tsp.

salt

1

Tbsp.

lemon juice

2

Tbsp.

olive oil
Instructions
DIRECTIONS FOR QUINOA FALAFEL
In a large bowl, combine all ingredients and mix well. Divide mixture into four equal portions, making six falafel balls with each portion.

In a medium skillet, heat about 1/2 inch oil. Fry falafel in batches, turning often until browned on all sides. Transfer falafel to a paper towel lined plate to drain. Repeat with remaining mixture, adding more oil to the skillet as needed. Serve warm.
DIRECTIONS FOR TZATZIKI
Combine all ingredients in a bowl, mix well and serve. Store unused portion in a covered container in the refrigerator for 2 to 3 days.
My Ultimate Candida Diet program contains more than 100 tasty recipes for every meal and every stage of the Candida diet. They are gluten-free, sugar-free, and absolutely delicious! Dr Wood and I have also included lots of valuable advice on how to beat Candida, and which foods to eat and avoid.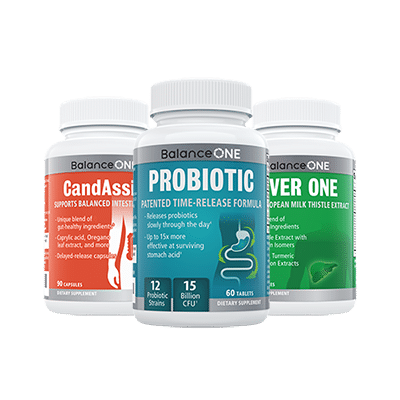 3-Month Candida Elimination Kit
Start Your 3-month Candida Cleanse
This Candida Kit contains all the supplements recommended on the Candida Diet:
- LIVER ONE to process and remove the toxins created by Candida.
- CANDASSIST to inhibit and weaken the Candida colonies in your gut.
- PROBIOTIC to replace the Candida yeast with probiotic bacteria.
Plus... the CANDIDA DIET RECIPE BOOK with 50+ low-sugar recipes
Comments