Pumpkin Seed Oat Biscuits
These savory biscuits are inspired by Southwestern cuisine. Pumpkin seeds, dried thyme leaves, and cayenne pepper are three of the earthy, pungent flavors that make their way into the mix. You can use the pumpkin seeds raw, or toasted for an extra crunchy biscuit.
These biscuits make a healthy alternative to tortilla chips, so serve with soups, stews, salads or as an appetizer with a bowl of homemade guacamole or tomatillo salsa. The biscuits are nutritionally dense, full of healthy ingredients, and contain no added sugars at all.
This recipe uses oat bran, pumpkin seeds, almond flour, and arrowroot flour as its base. All of these are completely gluten-free and won't inflame your gut in the way that glutenous flours will.
The evidence is now very strong that glutenous grains can cause gut inflammation in anyone, not just those who are Celiac. These biscuits are gluten-free and gut-friendly!
Another helpful feature of these biscuits is they are very easy to pack for snacks on the go. If you're traveling, or just out and about, pack a few of these biscuits in your bag for when you're hungry. You can also make a large batch and keep them in your pantry.
Free Guide To Beating Candida
Sign up to our free, 8-part email course today, and learn how to create your own, personalized Candida treatment plan :)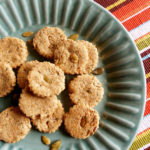 Pumpkin Seed Oat Biscuits
Ingredients
⅔

cup

oat bran

¼

cup

pumpkin seeds

⅓

cup

almond flour

⅓

cup

arrowroot powder

¼

tsp

salt

⅛

tsp.

cayenne pepper

½

tsp.

dried thyme leaves

¼

cup

butter or coconut oil, cold and cubed

¼

cup

unsweetened almond milk

1

Tbsp.

pumpkin seeds
Instructions
Preheat oven to 400 degrees F (205 degrees C). Line a baking sheet with parchment paper, set aside.

In the bowl of a food processor, add oat bran and pumpkin seeds and process for about 30 seconds. Add almond flour, arrowroot powder, salt, cayenne and dried thyme leaves. Process to combine, about 10 seconds.

Transfer dry mixture to a medium bowl. Add cold, cubed butter or coconut oil and rub with your fingers to combine until mixture resembles breadcrumbs. Add unsweetened almond milk and stir until mixture comes together into a dough. Mix in remaining tablespoon of pumpkin seeds.

Roll out biscuit dough between two pieces of parchment paper to about 1/4 inch thick. Cut into rounds and repeat with remaining dough.

Bake biscuits for about 15 minutes or until edges just begin to brown. Cool completely, store in an airtight container.
Nutritious, tasty snacks like this are what the Candida diet is all about. If you're looking for more ideas, check out our Ultimate Candida Diet program. It includes more than 100 tasty recipes for every meal and every stage of the Candida diet.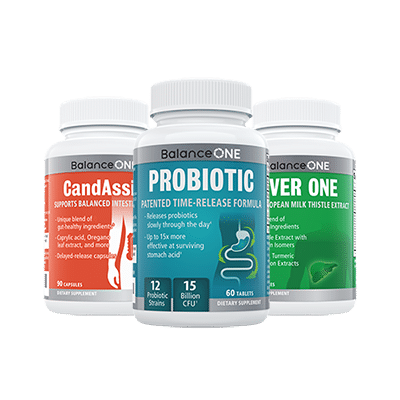 3-Month Candida Elimination Kit
Start Your 3-month Candida Cleanse
This Candida Kit contains all the supplements recommended on the Candida Diet:
- LIVER ONE to process and remove the toxins created by Candida.
- CANDASSIST to inhibit and weaken the Candida colonies in your gut.
- PROBIOTIC to replace the Candida yeast with probiotic bacteria.
Plus... the CANDIDA DIET RECIPE BOOK with 50+ low-sugar recipes
Comments