This grilled chicken marinade is really simple but tastes delicious, and it's super-healthy too!
The limes, garlic, chilies, and olive oil work perfectly together to create a really fresh-tasting flavor. You can pair this chicken with a simple green salad. The limes, garlic and olive have some antifungal properties too, so you rest assured that this dish is going to improve your gut health.
I really recommend that you buy organic chicken as it is a much healthier (and tastier) meat. In fact, buying organic is much more important with chicken than it is with other meats.
The conditions in which some non-organic chickens are raised is nothing short of horrifying. And even setting aside the welfare of the birds, these conditions lead to disease, inflammation and the regular use of antibiotics to keep them healthy. So please make the smart choice and stick with organic chicken wherever possible.
Grilled Lime Chicken
Ingredients
1

chicken breast

Juice of 2 limes

3

garlic cloves

2

chilies

1

Tbsp.

olive oil

Salt & pepper to taste
Instructions
Blend the lime juice, garlic, chilies and olive oil in a food processor.

Pour into a Ziploc bag with the chicken breast. Seal the bag and let it marinade in the refrigerator for 30 minutes.

On a hot pan or grill, cook the chicken for around 5 minutes on each side, or until it's cooked thoroughly.

Serve with a simple green salad. You can use a dressing of olive oil, lime juice and sea salt for the salad.
My Ultimate Candida Diet program includes more than 100 tasty recipes for every meal and every stage of the Candida diet. They are gluten-free, sugar-free, and absolutely delicious! Dr Wood and I have also included lots of valuable advice on how to beat Candida, and which foods to eat and avoid.
Free Guide To Beating Candida
Sign up to our free, 8-part email course today, and learn how to create your own, personalized Candida treatment plan :)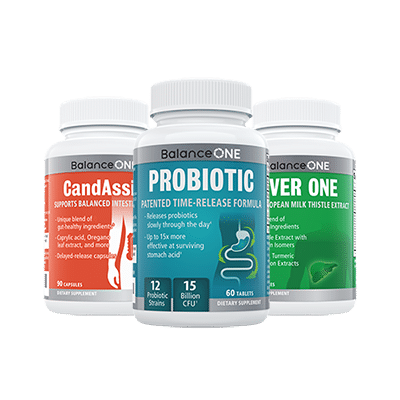 3-Month Candida Elimination Kit
Start Your 3-month Candida Cleanse
This Candida Kit contains all the supplements recommended on the Candida Diet:
- LIVER ONE to process and remove the toxins created by Candida.
- CANDASSIST to inhibit and weaken the Candida colonies in your gut.
- PROBIOTIC to replace the Candida yeast with probiotic bacteria.
Plus... the CANDIDA DIET RECIPE BOOK with 50+ low-sugar recipes