Spring is finally here, and here is a wonderful, fresh-tasting Spring salad to celebrate. The best part of this salad is the subtle flavor of the mustard-tarragon dressing. Make a little extra dressing, store it in your refrigerator, and you can use it as a healthy addition to virtually any salad.
Packed full of healthy nutrients and low in carbohydrates, this recipe uses only ingredients that are safe for a Candida diet. It's a perfect dish to eat during the cleanse and the early phases of the diet. You can eat it alone as a salad, or pair it with some wild salmon or grilled steak.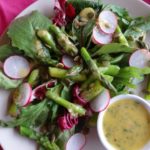 Spring Salad With Mustard Tarragon Dressing
Ingredients
INGREDIENTS FOR SPRING SALAD
12

spears asparagus

3

cups

spring greens

2

radishes

¼

cup

pumpkin seeds, shelled
INGREDIENTS FOR THE MUSTARD TARRAGON DRESSING
1

tsp.

dry mustard

1

Tbsp.

shallot, finely minced

1

Tbsp.

fresh tarragon, finely minced (or 1 tsp. dry tarragon)

3

Tbsp.

apple cider vinegar

¼

cup

olive oil

Salt and pepper to taste
Instructions
With a vegetable peeler, peel asparagus stalks below the leaves, then cut stalks diagonally into 2 inch pieces.

In a saucepan over medium heat, add asparagus pieces, a good pinch of salt and water to just cover. Simmer asparagus until fork tender, remove to a plate, cool.

To prepare the dressing, put all the dressing ingredients into a jar, put a lid on the jar and shake well. You can refrigerate the unused portion.

To finish the salad, first put some Mustard Tarragon Dressing into a salad bowl. Next, add asparagus pieces, spring greens and thinly sliced radishes. Toss salad to dress thoroughly. Sprinkle with pumpkin seeds, serve.
Looking for more gluten-free, sugar-free recipes? My Ultimate Candida Diet program contains more than 50 delicious recipes, plus lots of valuable advice on which foods to eat and avoid. Find out more here.