Grilled Chicken With Bok Choy In Coconut Milk
This is a tasty Asian-inspired recipe that combines several antifungal foods like garlic, coconut milk, ginger, and turmeric. The combination of ginger and coconut aminos is a really simple way to introduce an Asian flavor to the dish. Perfect for a healthy, guilt-free dinner that won't leave you feeling hungry!
The bok choy with coconut milk goes really well with grilled chicken, but if you prefer you can leave out the chicken and include lots of fresh veggies instead. And it also makes for a tasty side dish that is both nutritious and full of delicate Asian flavors.
You might not have eaten much bok choy if you haven't lived in Asia or if you don't go to Chinese restaurants. It's very easy too cook with, and has a neutral taste that is usually covered by whatever sauce or seasoning that it's cooked with. If bok choy is not your thing, this dish could easily be adapted to use broccoli or leeks instead.
Grilled Chicken With Bok Choy In Coconut Milk
Ingredients
2

chicken breasts (organic if possible)

1

tsp.

coconut oil

1

garlic clove, thinly sliced

3

thin slices of ginger

1

(12oz) can of coconut milk

2

tsp.

turmeric

¼

tsp.

salt

2 to 3

heads baby bok choy, halved lengthwise

4

scallions, halved lengthwise

1

Tbsp.

coconut aminos

Red pepper flakes to taste

Fresh basil leaves (or Thai basil for a more Asian flavor)
Instructions
Heat coconut oil in a large skillet over medium heat.

Add garlic and ginger slices, sauté for 30 seconds. Add coconut milk, turmeric and salt, whisk until combined.

Bring to a gentle boil, add bok choy and scallions, then reduce heat to medium low and simmer, covered, for 5 minutes.

Stir in coconut aminos and red pepper flakes to taste, garnish with fresh basil. Set aside.

On a hot pan or grill, cook the chicken breasts for around 5 minutes on each side, or until they are cooked thoroughly.

Season the grilled chicken, then slice and lay it gently on top of the bok choy. Serve with a side of quinoa.
My Ultimate Candida Diet program includes more than 100 tasty recipes for every meal and every stage of the Candida diet. They are gluten-free, sugar-free, and absolutely delicious! Dr Wood and I have also included lots of valuable advice on how to beat Candida, and which foods to eat and avoid.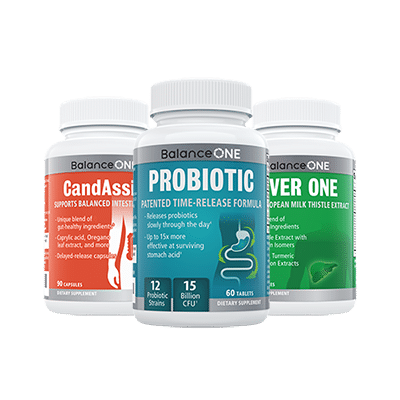 3-Month Candida Elimination Kit
Start Your 3-month Candida Cleanse
This Candida Kit contains all the supplements recommended on the Candida Diet:
- LIVER ONE to process and remove the toxins created by Candida.
- CANDASSIST to inhibit and weaken the Candida colonies in your gut.
- PROBIOTIC to replace the Candida yeast with probiotic bacteria.
Plus... the CANDIDA DIET RECIPE BOOK with 50+ low-sugar recipes
Comments