Golden Baked Chicken and Leeks
Here's a great idea for an easy, one pan meal using budget friendly chicken thighs. In our recipe for Golden Baked Chicken and Leeks, chicken thighs baked on a bed of sliced leeks and peppers. As they bake, the chicken thighs release their juices, blending with the turmeric infused coconut milk, creating a delicious golden sauce. The chicken is baked until it is crispy and golden brown, the leeks until they are tender sweet.
A member of the onion family, leeks have their own distinct flavor, delicate like a mild onion with a hint of sweetness. Leeks are a great source of vitamins A, K and C, as well as folate and fiber. Use only the white parts because the darker green parts are too tough to eat. And make sure to rinse the leeks well before using, as dirt can collect between the layers.
The two teaspoons of turmeric in this recipe give it a real anti-inflammatory, immune-boosting kick, as well as that lovely golden color. And it tastes just as good as it looks!
This Golden Baked Chicken and Leeks is a simple and delicious feel-good meal for the times. Serve alongside either cauliflower rice or quinoa, with generous spoonfuls of the creamy and fragrant sauce.
Golden Baked Chicken and Leeks
Ingredients
1 1/2

cups

canned unsweetened coconut milk

2

Tbsp.

coconut aminos

2

tsp.

turmeric

1

tsp.

salt

1/4

tsp.

pepper

4

leeks cut into 1/2 inch slices, white and light green parts only

1

red pepper, sliced

1

clove

garlic, thinly sliced

6

chicken thighs
Instructions
Preheat the oven to 375 degrees F (190 degrees C).

In a medium bowl, add the unsweetened canned coconut milk, coconut aminos, turmeric, salt and pepper. Whisk to combine, set aside.

Add the leek, red pepper and garlic slices to a 9 x 13 inch baking pan. Place the chicken thighs skin side up, on top of the vegetables. Pour the coconut milk mixture over the chicken and vegetables.

Bake, uncovered and basting with the coconut milk mixture halfway, until the chicken thighs have become crispy brown and juices run clear, about an hour.

Serve with cauliflower rice or quinoa.
Recipes like this will make your recovery from Candida so much easier, faster, and more fun! Our Ultimate Candida Diet program is packed full of gluten-free, sugar-free recipes just like this one. There are more than 100 recipes in total, and they're all perfect for the Candida diet. Learn more here.
Free Guide To Beating Candida
Sign up to our free, 8-part email course today, and learn how to create your own, personalized Candida treatment plan :)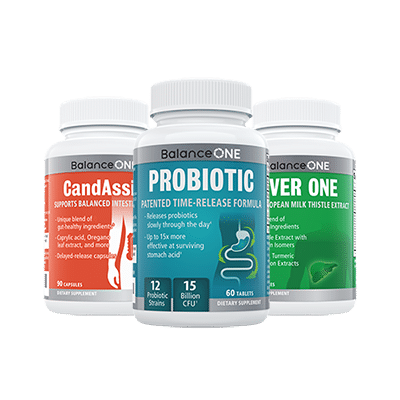 3-Month Candida Elimination Kit
Start Your 3-month Candida Cleanse
This Candida Kit contains all the supplements recommended on the Candida Diet:
- LIVER ONE to process and remove the toxins created by Candida.
- CANDASSIST to inhibit and weaken the Candida colonies in your gut.
- PROBIOTIC to replace the Candida yeast with probiotic bacteria.
Plus... the CANDIDA DIET RECIPE BOOK with 50+ low-sugar recipes
Comments