Here is a delicious gluten-free waffle recipe that you can serve for breakfast, as dessert or whenever you feel like a tasty snack! It's very low in carbohydrates, and contains lots of healthy protein and fats to keep your energy levels high.
This recipe contains no added sugars or gluten, both of which can contribute to poor gut health. I use coconut instead of regular flour, but with a little experimentation you can use alternatives like buckwheat flour too.
Why is avoiding gluten so important? There is more and more evidence that gluten can increase inflammation in the gut, and not just in those that are Celiac. Non-Celiac gluten intolerance is widespread and can have major consequences for your health and wellbeing.
Even if you're not on a Candida diet, I would recommend avoiding gluten wherever possible. Gluten weakens the junctions that form your intestinal walls, leading to leaky gut syndrome, allergies, low energy, and more. Cutting gluten out of your diet can lead to some remarkable health improvements.
If you just started the Candida diet, you can top off these waffles with some organic butter. If you're on the later stages of the Candida Diet and have begun to reintroduce more foods, try the Granny Smith Applesauce recipe listed further down the page. Enjoy!
Free Guide To Beating Candida
Sign up to our free, 8-part email course today, and learn how to create your own, personalized Candida treatment plan :)
Gluten Free Waffles
Servings
:
2
8-inch waffles
Ingredients
INGREDIENTS FOR GLUTEN FREE WAFFLES
4

egg whites

4

egg yolks

⅓

cup

canned coconut milk

2

Tbsp.

coconut oil, melted

1

tsp.

alcohol free vanilla

½

tsp.

or 1 packet Stevia

½

cup

coconut flour

½

tsp.

baking soda

Pinch

of salt
INGREDIENTS FOR GRANNY SMITH APPLESAUCE
4

Granny Smith apples, peeled, seeded and quartered

1

cup

water

2

tbsp.

lemon juice

Stevia, to taste

Cinnamon, to taste
Instructions
DIRECTIONS FOR GLUTEN FREE WAFFLES
Preheat waffle iron according to manufacturer's instructions.

In a medium bowl beat egg whites until soft peaks form, set aside. In a small bowl whisk egg yolks, coconut milk, coconut oil, alcohol free vanilla and stevia, set aside.

In a large bowl, add coconut flour, baking soda and salt, stir to combine. Add egg whites and egg yolk mixture to the coconut flour mixture, stir gently to combine, then let batter rest for 1 to 2 minutes. Pour half of the waffle batter onto a preheated waffle iron. Repeat with remaining batter.

Serve waffles topped with a little butter. If you are on the later stages of the diet, try the Granny Smith Applesauce below!
DIRECTIONS FOR GRANNY SMITH APPLESAUCE
In a medium saucepan, combine apples, water and lemon juice. Simmer over medium heat, stirring occasionally, until apples become very soft and are falling apart, about 25 to 30 minutes.

Remove from heat, mash with a potato masher or pulse in a food processor for a smoother texture.

Add stevia and cinnamon to taste. Applesauce can be stored in covered containers in refrigerator for 1 to 2 weeks.
Avoiding gluten is such an important part of maintaining good gut health, but it's not that easy if you've been eating glutenous foods your whole life! I created the Ultimate Candida Diet program, with Dr Eric Wood, to improve gut health and reverse Candida overgrowth. It contains more than 100 recipes that are completely free of added sugars and gluten. Find out more here.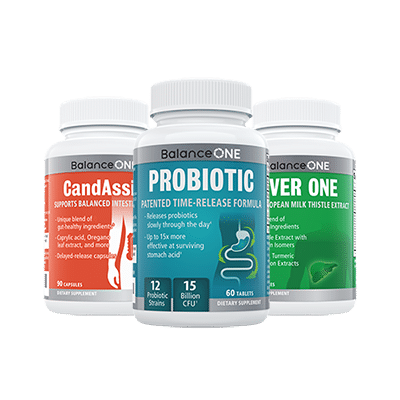 3-Month Candida Elimination Kit
Start Your 3-month Candida Cleanse
This Candida Kit contains all the supplements recommended on the Candida Diet:
- LIVER ONE to process and remove the toxins created by Candida.
- CANDASSIST to inhibit and weaken the Candida colonies in your gut.
- PROBIOTIC to replace the Candida yeast with probiotic bacteria.
Plus... the CANDIDA DIET RECIPE BOOK with 50+ low-sugar recipes
Comments