An Easy, Sugar-Free Eggnog Recipe!
Store-bought eggnog is a delicious holiday treat, but unfortunately it contains an incredible amount of sugar and other additives, so is not allowed on the Candida diet.
What if you love the creamy taste of eggnog, but you're worried that drinking it over the Christmas season will ruin your Candida diet? If so, don't worry… here is a really easy to make a delicious eggnog recipe without adding any sugar at all! The best part is that it's actually a great Candida-fighting drink that can be enjoyed at any time of year.
This guilt-free eggnog recipe contains no sugar and no dairy. Even better, it contains a couple of natural antifungal foods (coconut milk and cinnamon) which can help to beat a Candida overgrowth and rebalance your gut flora. It's a healthy way to get the taste of Christmas without the guilt of those empty calories and added sugars. Alcohol is obviously optional but wouldn't be advised in the initial stages of the Candida diet.
This recipe only takes a few minutes to prepare and tastes just as good as the real thing. Enjoy!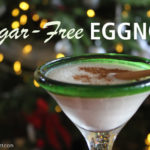 An Easy, Sugar-Free Eggnog Recipe!
Ingredients
1

12 oz

can coconut milk, at room temperature

¼

cup

unsweetened almond milk

2

eggs

1

tsp.

alcohol-free vanilla

1 to 2

packets Stevia

½

tsp.

nutmeg (fresh if possible, grated with a microplane)

¼

tsp.

cinnamon
Instructions
In a blender, combine coconut milk, almond milk, eggs, alcohol free vanilla, stevia, nutmeg and cinnamon. Blend on high speed until the mixture is frothy.

Chill before serving.

Pour into glasses, and garnish with a dusting of cinnamon and a cinnamon stick. Happy holidays!
Recipe Notes
If you're concerned about the risk of salmonella or other food-borne illness, simply dip the eggs in boiling water for 30 seconds. This will effectively sanitize the eggs, if they have been properly refrigerated.
Our Ultimate Candida Diet program contains a huge list of 100 gluten-free, sugar-free recipes for every meal and stage of the Candida diet. Dr Wood and I have also written in detail about how to beat Candida, and which foods to eat and avoid.
Free Guide To Beating Candida
Sign up to our free, 8-part email course today, and learn how to create your own, personalized Candida treatment plan :)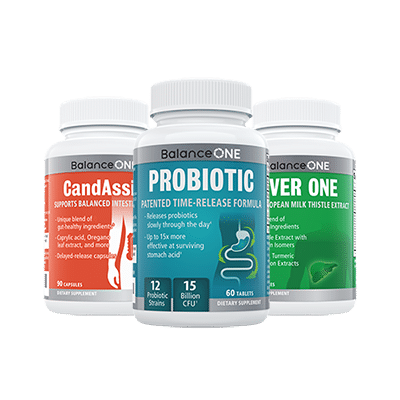 3-Month Candida Elimination Kit
Start Your 3-month Candida Cleanse
This Candida Kit contains all the supplements recommended on the Candida Diet:
- LIVER ONE to process and remove the toxins created by Candida.
- CANDASSIST to inhibit and weaken the Candida colonies in your gut.
- PROBIOTIC to replace the Candida yeast with probiotic bacteria.
Plus... the CANDIDA DIET RECIPE BOOK with 50+ low-sugar recipes
Comments