Looking for a new and creative way to transform leftover roast or grilled chicken? With a few staples from your Candida Diet pantry, such as coconut milk, garlic, turmeric, ginger, and stevia, you can whip up this unique and flavorful curried chicken bowl in minutes.
The addition of fresh spinach and cooked quinoa makes this a balanced meal in a bowl. It contains lots of satisfying protein, a healthy dose of good fats, and plenty of energy-giving micronutrients. The recipe can be easily doubled or tripled for more servings.
Note that this recipe is designed as a quick, tasty way to use up your leftover turkey or chicken. Therefore, the prep time doesn't include the time to cook the meat. If you want to make this meal from scratch, remember to allow enough time to cook the chicken or turkey.
Stevia is a natural, zero-calorie sweetener that can help you to satisfy sweet cravings without spiking your blood sugar. For this reason, it's often used by diabetics. However, it has a slightly bitter aftertaste that not everyone enjoys. If you're not a fan of stevia, try using monk fruit extract in this recipe instead. Enjoy!
Curried Chicken Bowl
Ingredients
Dressing
2

tablespoons

olive oil

2

tablespoons

canned coconut milk

1

tablespoon

fresh lemon juice

1/2

teaspoon

minced garlic

1/2

teaspoon

powdered turmeric

1/2

teaspoon

powdered ginger

1/4

teaspoon

powdered stevia

Salt and pepper to taste
Salad
1 1/2

cups

cooked chicken, white or dark meat, shredded or cubed

1/4

cup

diced celery

1/4

cup

diced Granny Smith apple

2

tablespoons

finely chopped red onion

2

tablespoons

slivered almonds

1

cup

fresh spinach leaves

1

cup

cooked quinoa

Fresh cilantro for garnish
Instructions
To make dressing, in a small bowl add olive oil, canned coconut milk, fresh lemon juice, minced garlic, powdered turmeric, powdered ginger, powdered stevia, salt and pepper. Whisk to combine, set dressing aside.

To make salad, in a medium bowl add cooked, shredded chicken, diced celery, diced Granny Smith apple, finely chopped red onion and slivered almonds. Mix well. Pour dressing over the salad, toss to combine.

To assemble, fill a bowl with spinach leaves, cooked quinoa and curried chicken salad. Garnish with cilantro. Enjoy!

Store any extra curried chicken salad in an airtight container in the refrigerator for 3 to 4 days.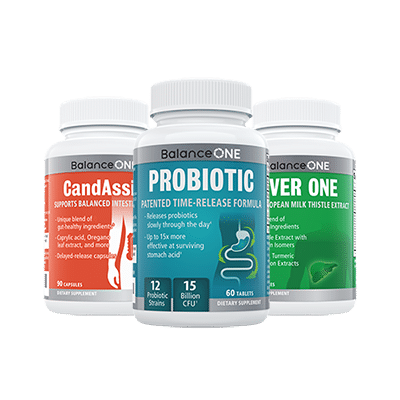 3-Month Candida Elimination Kit
Start Your 3-month Candida Cleanse
This Candida Kit contains all the supplements recommended on the Candida Diet:
- LIVER ONE to process and remove the toxins created by Candida.
- CANDASSIST to inhibit and weaken the Candida colonies in your gut.
- PROBIOTIC to replace the Candida yeast with probiotic bacteria.
Plus... the CANDIDA DIET RECIPE BOOK with 50+ low-sugar recipes
Comments