Roasting your vegetables helps bring out their natural sweetness, making them just delicious and more intensely flavored.
For example, roasting cauliflower turns an otherwise bland vegetable into one with golden caramelized edges and an toasty, nutty flavor.
After roasting it, just simmer the cauliflower in a coconut infused broth with a warming blend of spices and you've created this delicious, velvety smooth soup.
Our curried cauliflower soup is just that easy to make. It's a two step recipe that is satisfying, healthy, low in carbs, and can be made in less than an hour.
A colorful garnish completes the soup, making it a beautiful feast for the eyes. It's perfect served for lunch, as a snack or as a light supper with a few quinoa and buckwheat crackers. This recipe can be easily doubled or tripled for more servings.
Free Guide To Beating Candida
Sign up to our free, 8-part email course today, and learn how to create your own, personalized Candida treatment plan :)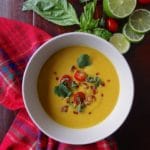 Curried Cauliflower Soup
Course:
Main Course, Snack, Soup
Ingredients
Soup
1 lb.

cauliflower, cut into bite size pieces (about 1 small cauliflower)

4

Tbsp.

oil, such as melted coconut oil or olive oil, divided

Salt and pepper

1/2

medium onion, diced

1

clove

garlic, sliced

1/2

tsp.

powdered cumin

1/2

tsp.

powdered ginger

1/2

tsp.

powdered turmeric

2

cups

water or vegetable broth

1/2

cup

canned unsweetened coconut milk

Salt and pepper to taste
Garnish [optional]
Roasted cauliflower bits

Diced tomatoes

Finely minced fresh basil and cilantro

Red pepper flakes

Fresh lime juice
Instructions
Preheat the oven to 400 degrees F ( 205 degrees C).

In a large bowl, add the cauliflower pieces, 2 tablespoons of oil and a sprinkling of salt and pepper. Toss to coat.

Spread cauliflower pieces on a rimmed baking sheet and roast until tender and browned, about 20 minutes, turning the pieces over halfway. Remove from the oven, and set aside. Save a few of the small bits of roasted cauliflower to garnish the soup.

In a medium soup pot over medium heat, add the remaining 2 tablespoons of oil. Next add the onion and sauté until tender, about 5 minutes. Add the sliced garlic, powdered cumin, powdered ginger and powdered turmeric. Stir to combine and sauté for about 1 minute, until the garlic and spices are fragrant. Finally, add the water or broth, coconut milk and roasted cauliflower pieces. Raise heat and bring to a boil. Reduce to heat to low, cover and simmer the soup for 20 minutes, or until the cauliflower pieces are tender.

Blend the soup in the soup pot with an immersion blender, or transfer it to a blender and process until smooth. Reheat if needed and season with salt and pepper to taste.

Serve the soup with a garnish of reserved roasted cauliflower bits, diced tomatoes, finely minced fresh basil and cilantro, red pepper flakes and a squeeze of fresh lime juice.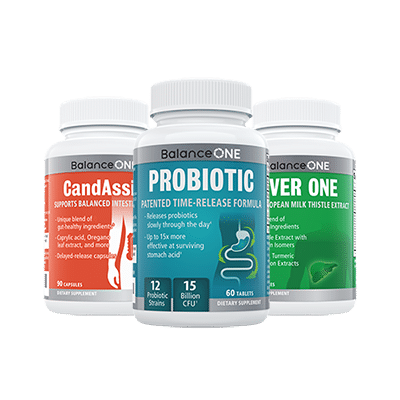 3-Month Candida Elimination Kit
Start Your 3-month Candida Cleanse
This Candida Kit contains all the supplements recommended on the Candida Diet:
- LIVER ONE to process and remove the toxins created by Candida.
- CANDASSIST to inhibit and weaken the Candida colonies in your gut.
- PROBIOTIC to replace the Candida yeast with probiotic bacteria.
Plus... the CANDIDA DIET RECIPE BOOK with 50+ low-sugar recipes
Comments