Coconut Flour Crackers and Grissini
Sometimes nothing but a cracker will satisfy that need for something a little crunchy. With just a few ingredients, these crispy crackers are quick to make and super-healthy too.
This recipe uses coconut flour, coconut milk, and coconut oil. Using the various forms of coconut is a good way to incorporate gluten-free foods and healthy fats into your diet. They have antifungal properties too, which means that they can help to rebalance your gut flora.
Coconut flour crackers are high in fiber and make a wonderfully satisfying snack when paired with our Red Pepper Dip or delicious Guacamole.
You can also roll up the dough scraps to make grissini (pencil thin breadsticks) for a nice accompaniment to your next bowl of soup or salad.
Both the crackers and grissini are wonderful snacks to put in your bag when traveling or out and about. They will keep for a long time in a cool dark place, so make a large batch and keep them in your pantry for when you're feeling peckish. Enjoy!
Free Guide To Beating Candida
Sign up to our free, 8-part email course today, and learn how to create your own, personalized Candida treatment plan :)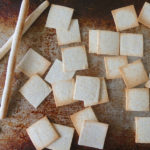 Coconut Flour Crackers and Grissini
Ingredients
½

cup

coconut flour

¼

cup

golden flax seed meal

½

tsp.

salt

¼

cup

coconut oil, melted

½

cup

unsweetened coconut milk
Instructions
Preheat oven to 350 degrees F ( 177 degrees C).

Into a medium bowl sift coconut flour. Add flax seed meal and salt, whisk to combine.

In a small bowl add melted coconut oil and unsweetened coconut milk, whisk to combine.

Pour liquid ingredients into dry mixture, stir combine. Mixture will gradually form a dough as coconut flour begins to absorb moisture.

Form dough into a ball and place onto a piece of parchment paper the size of your baking sheet. Flatten dough with your hands, fingers into a 7 – 8 inch square. Cover dough with another piece of parchment paper and with a rolling pin, roll to about a 1/4 inch thickness and about a 13 – 14 inch square. Using a ruler and a sharp knife or pizza cutter, cut dough into crackers about one and a half inch square, and separate slightly. Transfer parchment paper and crackers to a baking sheet. With remaining dough scraps, shape into pencil shapes for grissini and place on baking sheet with crackers.

Bake for 10 minutes and remove any outer crackers that have browned nicely as they bake more quickly. Continue to bake remaining crackers for another 10 minutes, checking and removing crackers as edges begin to turn golden brown. Remove grissini when ends are golden brown. Cool crackers and grissini completely. Serve with dips, soups, salads or alone as a snack.
My Ultimate Candida Diet program includes more than 100 tasty recipes for every meal and every stage of the Candida diet. They are gluten-free, sugar-free, and absolutely delicious! Dr Wood and I have also included lots of valuable advice on how to beat Candida, and which foods to eat and avoid.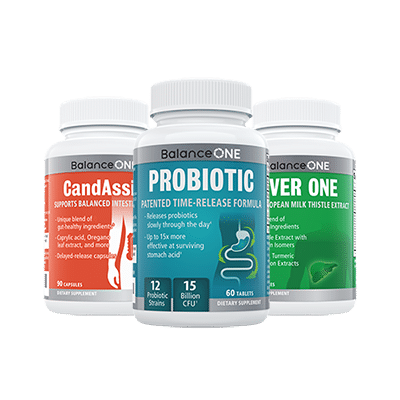 3-Month Candida Elimination Kit
Start Your 3-month Candida Cleanse
This Candida Kit contains all the supplements recommended on the Candida Diet:
- LIVER ONE to process and remove the toxins created by Candida.
- CANDASSIST to inhibit and weaken the Candida colonies in your gut.
- PROBIOTIC to replace the Candida yeast with probiotic bacteria.
Plus... the CANDIDA DIET RECIPE BOOK with 50+ low-sugar recipes
Comments