Here's an idea for a simple meal that you can throw together in just a few minutes. It's a great recipe for a low-sugar diet like the Candida treatment plan, containing lean protein, lots of vegetables, and a classic dressing of lemon, olive oil and salt.
If you haven't introduced quinoa into your diet yet, you really should. It is a complete source of protein (meaning that it contains all the essential amino acids that our bodies need), and it has a much lower glycemic index than rice. Use it in this dish, my red curry chicken, or a cabbage masala.
While you're on a low carbohydrate diet like the Candida diet, you can make life easier by keeping a few essentials stocked up in your pantry. Quinoa is one of those, along with olive oil, coconut oil, and various flours. It's always handy to have vegetables like avocados, garlic, and onions handy too.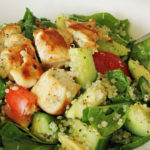 Chicken Quinoa Salad
Ingredients
1

chicken breast

¼

cup

uncooked quinoa

2

cups

spinach

2

medium tomatoes

½

cucumber

1

avocado

2

shallots

1

garlic clove, minced

Juice of ½ lemon

2

Tbsp.

olive oil

Sea salt
Instructions
Cook the quinoa as directed.

Chop up the chicken and pan-fry with the minced garlic until cooked thoroughly (about 5 minutes).

Now chop up the veggies, toss everything in a bowl and serve.
Healthy meals like this are an excellent option for a light snack on the Candida diet. Our Ultimate Candida Diet program is packed full of gluten-free, sugar-free recipes like this. It contains more than 100 recipes in total, and they're all perfect for the Candida diet. Find out more here.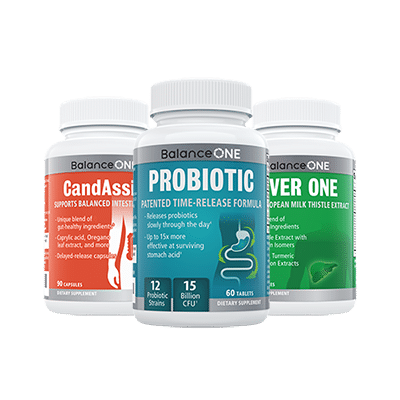 3-Month Candida Elimination Kit
Start Your 3-month Candida Cleanse
This Candida Kit contains all the supplements recommended on the Candida Diet:
- LIVER ONE to process and remove the toxins created by Candida.
- CANDASSIST to inhibit and weaken the Candida colonies in your gut.
- PROBIOTIC to replace the Candida yeast with probiotic bacteria.
Plus... the CANDIDA DIET RECIPE BOOK with 50+ low-sugar recipes
Comments