Chicken and Zucchini Noodle Salad
These nutrient-packed, raw vegetable noodles are the perfect pasta alternative for for healthy eaters. They're low in carbs, full of healthy Candida diet foods, and an easy and fun way to put more your vegetables on your plate.
You can find a variety of vegetable noodles in your grocers produce section or you can make your own with a spiralizer, julienne peeler or mandolin. So go ahead and load up on vegetables with this healthy Chicken and Zucchini Noodle Salad!
Zucchini noodles make the perfect base for this colorful and flavorful salad. Tomatoes and basil add lots of fresh flavor, and pine nuts give it a bit of crunch. For protein, add chicken to make a heartier meal. This salad is delicious, simple to prepare, and and comes together quickly for a light lunch or dinner.
This salad will taste best when prepared and served immediately. However, leftovers can be refrigerated in an airtight container for 1 or 2 days. Enjoy!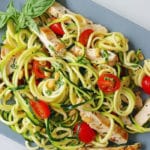 Chicken and Zucchini Noodle Salad
Ingredients
1

chicken breast half, boneless and skinless

Juice of a lemon, divided

Salt, pepper

1

tsp.

dried oregano

1

Tbsp.

olive oil

1

medium zucchini, cut into noodles

1/2

cup

cherry tomatoes, halved

2

Tbsp.

pine nuts

2

Tbsp.

minced fresh basil
Instructions
Place chicken breast half between 2 sheets of waxed paper and pound to a 1/2 inch thickness. Sprinkle both sides with half the lemon juice, then season both sides with salt, pepper and dried oregano.

In a medium size skillet, heat oil over medium high heat. Sauté chicken breast half for 3 to 4 minutes per side or until juices run clear. Remove from pan to a warm plate.

Cut zucchini into noodles using a spiralizer, julienne peeler or mandoline, then place noodles in a large bowl.

Add cherry tomato halves, pine nuts and minced basil to bowl, then toss to combine.

Slice chicken breast half into 3/4 inch thick strips. Add chicken strips to bowl, sprinkle with remaining lemon juice and season with salt and pepper to taste.

Toss the salad one more time to combine all ingredients, then serve.
Healthy salads like this, especially when combined with proteins, are a filling, healthy choice on your Candida diet. Our Ultimate Candida Diet program contains more than 100 gluten-free, sugar-free recipes just like this, plus lots of valuable advice on which foods to eat and avoid. You can find out more here.
Free Guide To Beating Candida
Sign up to our free, 8-part email course today, and learn how to create your own, personalized Candida treatment plan :)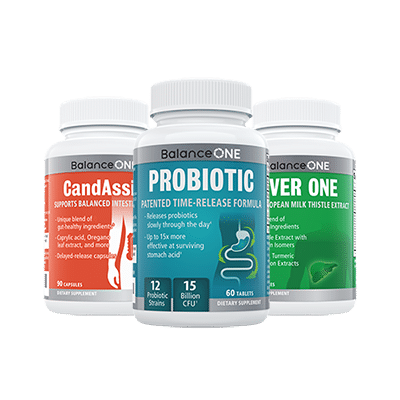 3-Month Candida Elimination Kit
Start Your 3-month Candida Cleanse
This Candida Kit contains all the supplements recommended on the Candida Diet:
- LIVER ONE to process and remove the toxins created by Candida.
- CANDASSIST to inhibit and weaken the Candida colonies in your gut.
- PROBIOTIC to replace the Candida yeast with probiotic bacteria.
Plus... the CANDIDA DIET RECIPE BOOK with 50+ low-sugar recipes
Comments