Chia Seed and Fennel Crusted Salmon
This recipe is a delicious way to get a double boost of omega-3's from chia seeds and salmon as well as a double boost of vitamin C from yellow pepper and fennel. Also called anise, fennel is sweet and very aromatic. The addition of the fennel seeds and the fronds (the feathery tops of the bulb) intensifies that clean anise flavor.
The combination of the salmon and vegetables (all from our approved foods list) makes for a really nutritious meal, with lots and lots of flavor. If the weather is good, you can also try grilling the salmon outside and pairing it with some delicious no-sugar coleslaw.
Not all fish are permitted on the Candida diet, but wild salmon is an excellent choice. It's one of the few large fish that is not polluted by mercury and heavy metal exposure, and is fantastic for your gut health. Other good choices are herring and sardines. Eating fish like these will have benefits for your brain, your immunity, and lots more besides your gut health.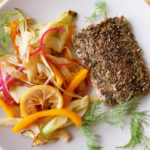 Chia Seed and Fennel Crusted Salmon
Ingredients
INGREDIENTS FOR SALMON
1

tsp.

chia seeds

¼

tsp.

fennel seeds

1

tsp.

minced fennel fronds

½

tsp.

lemon zest

½

tsp.

salt

½

tsp.

pepper

1

tsp.

oil, such as olive or coconut

1

egg white, lightly whisked

4

oz.

salmon

Lemon wedges
INGREDIENTS FOR VEGETABLE MEDLEY
1

Tbsp.

oil, such as coconut or olive oil

¼

fennel bulb, fronds removed, thinly sliced

¼

red onion, thinly sliced

¼

yellow pepper, seeded, thinly sliced

2 to 3

thin slices of lemon
Instructions
Preheat broiler.

In a spice mill, electric coffee grinder or a compact blender, grind chia seeds and fennel seeds. In a small bowl, mix together ground seeds, minced fennel fronds, lemon zest, salt, and pepper. Drizzle in oil and stir well, set aside.

In a shallow bowl, whisk egg white until frothy. Dip salmon filet in egg white, then transfer filet to an oiled baking sheet, press seed mixture thickly on top fillet. Broil salmon filet about 6 inches below broiler for 6 to 8 minutes. Transfer filet to a serving plate, set aside.

While salmon filet is broiling, heat oil over medium heat in a large skillet. Add sliced fennel bulb, red onion, yellow pepper and lemon, sauté until vegetables soften and just begin to brown, about 8 to 10 minutes. Transfer vegetables to plate with salmon filet, serve with lemon wedges.
My Ultimate Candida Diet program contains more than 100 tasty recipes for every meal and every stage of the Candida diet. They are gluten-free, sugar-free, and absolutely delicious! Dr Wood and I have also included lots of valuable advice on how to beat Candida, and which foods to eat and avoid.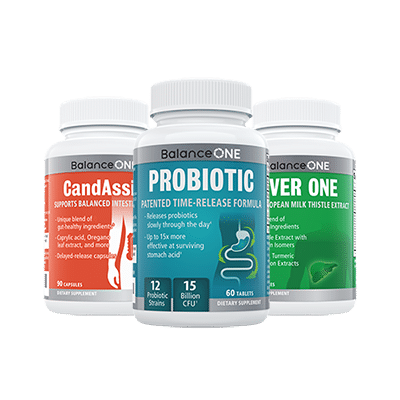 3-Month Candida Elimination Kit
Start Your 3-month Candida Cleanse
This Candida Kit contains all the supplements recommended on the Candida Diet:
- LIVER ONE to process and remove the toxins created by Candida.
- CANDASSIST to inhibit and weaken the Candida colonies in your gut.
- PROBIOTIC to replace the Candida yeast with probiotic bacteria.
Plus... the CANDIDA DIET RECIPE BOOK with 50+ low-sugar recipes
Comments