Many people think that buckwheat is a grain, but it's really a fruit seed that is not related to wheat at all. It is high in protein, a rich source of magnesium, and can help you to keep your blood sugar balanced throughout the day.
Buckwheat is available in either light or dark varieties. The darker kind has an earthy, nutty taste and is thought to be more nutritious. Native to Eastern Europe, buckwheat plays an important role in the region's traditional cuisines.
If you thought pasta was off the menu on a Candida diet, think again! You can pair this buckwheat ravioli with lots of different sauces. Try it with ajvar, a condiment made of red peppers that is popular in Balkan cuisine. Enjoy a taste of the old world.
Note: making gluten free pasta requires a different technique to regular pasta, because the gluten is what helps to make the dough supple and easy to work with. If your dough seems too dry, the answer is usually to add a little more water. This is especially true in drier climates.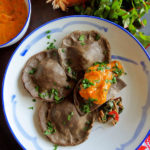 Buckwheat Ravioli
Servings
:
18
3-inch ravioli
Ingredients
MAKING THE FILLING
1

Tbsp.

olive oil

½

cup

finely chopped onion

1

clove

finely minced garlic

1

pound

ground meat, such as chicken or beef

½

pound

greens, such as chard or spinach, stemmed and coarsely chopped

⅛

tsp.

ground nutmeg

Salt and pepper to taste
MAKING THE RAVIOLI
2

cups

buckwheat flour

¼

tsp.

salt

2

egg yolks

1

egg

1

Tbsp.

olive oil

Ravioli filling (see ingredients above)
Instructions
INSTRUCTIONS FOR THE FILLING
Heat olive oil in a large skillet over medium heat.

Add the onion and garlic and cook until softened, about 4 minutes.

Add the ground meat to the skillet and cook until browned, about 5 minutes.

Then add the greens and sauté until wilted, about 2 minutes.

Finally, add the ground nutmeg and salt and pepper to taste. Take skillet off heat, set aside.
INSTRUCTIONS FOR RAVIOLI
In a large bowl, add buckwheat flour and salt, whisk to combine. Make a well in the center of the flour mixture and add egg yolks, egg, olive oil and water. With a fork, gently beat the egg mixture with out incorporating any of the flour mixture. Now with the fork, begin mixing in the flour mixture, a little at a time, with a stirring motion, until the dough is too stiff to mix with the fork.

Turn dough out onto a lightly floured surface, knead and shape dough into a smooth ball. If the dough is too dry, add more water, a tablespoon at a time, until dough is soft and pliable, but not too wet. Shape dough into a disk, wrap in plastic wrap and let it rest at room temperature for 30 minutes.

Working with half of the dough at a time, roll out to a 1/8 inch thickness, then cut into 3 inch circles. Spoon a tablespoon of filling onto the center of a dough circle, then moisten the edges with water. Top with another dough circle and press along the edges until ravioli is firmly sealed. Set aside on a lightly floured surface. Repeat with remaining dough circles and filling.

Bring a large pot of salted water to a boil. Gently slide ravioli into the water and cook, a few at a time, until tender, about 5 to 7 minutes. Remove ravioli from pot with a skimmer, plate, serve with ajvar.
Looking for more gluten-free, sugar-free recipes? My Ultimate Candida Diet program contains more than 100 delicious recipes, plus lots of valuable advice on which foods to eat and avoid. Find out more here.
Free Guide To Beating Candida
Sign up to our free, 8-part email course today, and learn how to create your own, personalized Candida treatment plan :)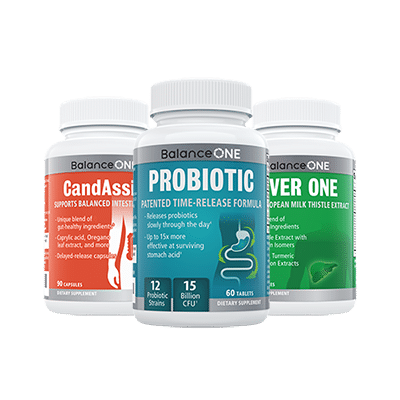 3-Month Candida Elimination Kit
Start Your 3-month Candida Cleanse
This Candida Kit contains all the supplements recommended on the Candida Diet:
- LIVER ONE to process and remove the toxins created by Candida.
- CANDASSIST to inhibit and weaken the Candida colonies in your gut.
- PROBIOTIC to replace the Candida yeast with probiotic bacteria.
Plus... the CANDIDA DIET RECIPE BOOK with 50+ low-sugar recipes
Comments