Avocado Pancakes With Lemon Parsley Butter
Here's a really healthy breakfast idea that incorporates lots of healthy ingredients into something that we all love – pancakes! The big difference is – these pancakes are full of healthy fats and proteins, and they are completely gluten-free.
Avocado is a filling food that will stop you from getting hungry on the Candida diet, while onions are on our list of antifungal foods. When you're on a Candida diet and avoiding things like sugar and gluten, there are still ways to enjoy your favorite foods. All you need is a little creativity and some quality ingredients.
It only takes a few minutes to cook these pancakes, and you probably have most of the ingredients in your cupboards or pantry already. Ingredients like coconut milk, avocado, and coconut flour are staples on the Candida diet and it makes sense to always have some handy. You can mix up the ingredients to take advantage of whatever fresh vegetables you have in your fridge.
These pancakes are much, much healthier for you and your family than the regular pancakes that you might be making. With lots of healthy fats, protein and fiber, they will give you a long-lasting, sustained level of energy throughout the morning. A great way to start the day!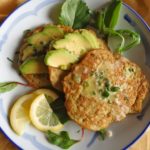 Avocado Pancakes with Lemon Parsley Butter
Ingredients
INGREDIENTS (PANCAKES)
¼

cup

coconut flour

½

tsp.

baking soda

¼

tsp.

salt

2

eggs

½

cup

canned coconut milk

½

avocado, mashed

3

green onions, thinly sliced

Butter, preferably organic

Avocado slices, spring greens, lemon slices [optional]

Thinly sliced green onions and minced parsley garnish [optional]
INGREDIENTS (LEMON PARSLEY BUTTER)
3

Tbsp.

butter, melted

1

Tbsp.

parsley, minced

1

Tbsp.

lemon juice
Instructions
In a small bowl, sift coconut flour, baking soda and salt, set aside.

In a medium bowl, whisk the eggs, milk, sliced green onions and mashed avocado until thoroughly combined. Add dry ingredients and stir until combined.

Heat a skillet over medium heat. Melt enough butter to coat the bottom of pan. For each pancake, spoon about ¼ cup batter into pan and cook until bubbles begin to appear on the top and bottom is golden brown, about 2 to 3 minutes. Flip pancake and cook until second side is golden brown, about 2 to 3 minutes. Continue with remaining batter, adding more butter to skillet as needed.

Now prepare the Lemon Parsley Butter. Melt the butter and stir in lemon juice and parsley. Keep warm until ready to serve.

Serve pancakes with sliced avocado, spring greens, lemon slices and a drizzle of Lemon Parsley Butter. Garnish with thinly sliced green onions and minced parsley.
Looking for more gluten-free, sugar-free recipes? My Ultimate Candida Diet program contains more than 100 delicious recipes, plus lots of valuable advice on which foods to eat and avoid. Find out more here.
Free Guide To Beating Candida
Sign up to our free, 8-part email course today, and learn how to create your own, personalized Candida treatment plan :)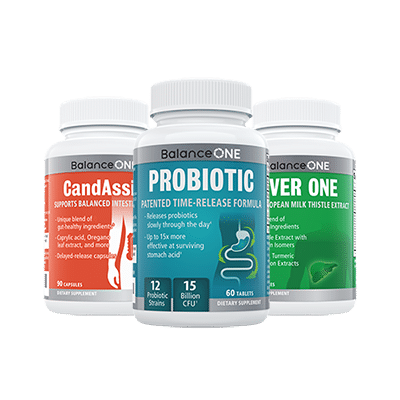 3-Month Candida Elimination Kit
Start Your 3-month Candida Cleanse
This Candida Kit contains all the supplements recommended on the Candida Diet:
- LIVER ONE to process and remove the toxins created by Candida.
- CANDASSIST to inhibit and weaken the Candida colonies in your gut.
- PROBIOTIC to replace the Candida yeast with probiotic bacteria.
Plus... the CANDIDA DIET RECIPE BOOK with 50+ low-sugar recipes
Comments