Here's a simple omelet recipe to use on your Candida diet. Avocado and eggs are two of the best ways to create a satisfying meal while you're treating your Candida, and this recipe contains a good helping of both. If you feel like you're not getting enough food on the diet, or you want to avoid losing weight, this is a great option.
Omelets are permitted on any stage of the diet, and indeed they are one of the most nutrient-rich foods that you can eat. They're great for a quick and easy meal, whether it's for breakfast, lunch, or dinner. Eggs in particular are such a nutritional powerhouse, and I encourage people to eat at least one each day.
Omelets are also a fantastic way to introduce new foods to your diet, especially vegetables. Start your day with a healthy mix of eggs and vegetables, and you'll have enough energy to last you right through until lunchtime. Remember to add lots of herbs, spices and seasonings for a delicious meal.
You might want to team this omelet up with some of our Candida diet coconut bread and a little butter, for a really satisfying start to your day 🙂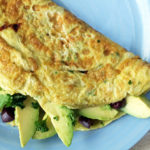 Avocado Omelet
Ingredients
2

shallots, chopped

2

garlic cloves, chopped

3

eggs

1

avocado, halved and sliced

6-7

black olives (not the ones in vinegar)

1

Tbsp.

butter

2

Tbsp.

chopped up parsley
Instructions
Whisk the eggs in a bowl and set aside.

Add ¾ of the parsley to the egg mixture.

Heat the butter in a pan on medium heat. Sauté the garlic, then add the shallots and cook until slightly brown. Set aside.

Now add the eggs mixture to the pan and let cook for 3-4 minutes. Spread the shallots and garlic evenly over the eggs and transfer to a plate.

Add the avocado, olives, and the remaining parsley to one side of the omelet. Fold over and serve.
You've had an omelet for breakfast, but what's for lunch? Our Ultimate Candida Diet program contains more than 100 delicious recipes for every meal of the day, and they are all completely free of gluten and added sugars. Find out more here.
Free Guide To Beating Candida
Sign up to our free, 8-part email course today, and learn how to create your own, personalized Candida treatment plan :)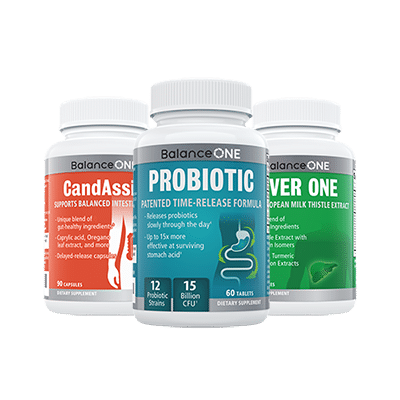 3-Month Candida Elimination Kit
Start Your 3-month Candida Cleanse
This Candida Kit contains all the supplements recommended on the Candida Diet:
- LIVER ONE to process and remove the toxins created by Candida.
- CANDASSIST to inhibit and weaken the Candida colonies in your gut.
- PROBIOTIC to replace the Candida yeast with probiotic bacteria.
Plus... the CANDIDA DIET RECIPE BOOK with 50+ low-sugar recipes
Comments