Avocado Baked Eggs with Vegetable Hash
This easy, all in one casserole dish is full of healthy fats and protein for the most important meal of the day. The addition of diced vegetables at the bottom of the dish keeps the avocado halves in place for nice, even baking and makes a nice condiment too. Serve as is, or with a slice of toasted Candida Diet Coconut Bread. You can enjoy your avocado baked eggs for breakfast, or lunch or dinner too!
This is a breakfast that should keep you satisfied and full throughout the morning. Low in carbohydrates but high in protein and fat, it will help to keep your blood sugar stable and prevent any mid-morning hunger pangs.
Thanks to the avocado and oil, it contains lots of healthy fats to keep you full. It also contains some antifungal foods (the onions and olive oil) as well as lots of other anti-inflammatory ingredients to keep your gut healthy. Enjoy!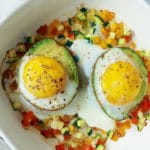 Avocado Baked Eggs with Vegetable Hash
Ingredients
1/4

cup

diced tomato

1/4

cup

diced zucchini

1/4

cup

diced yellow pepper

1/4

cup

diced onion

2

Tbsp.

olive oil, divided

1

avocado, halved and seeded

2

eggs, medium or large

Salt and pepper to taste

Fresh parsley, finely minced (optional)
Instructions
Preheat oven to 425 degrees F ( 220 degrees C )

In the bottom of a small oven proof casserole dish, add the diced vegetables, stir to mix, then spread out evenly. Sprinkle vegetable mixture with salt and pepper and drizzle with one tablespoon of olive oil.

Create two wells in the mixture and place an avocado half in each. Crack an egg into each avocado half, sprinkle with salt and pepper and drizzle with remaining tablespoon of olive oil.

Bake for 15 to 20 minutes or until eggs whites are set and yolks are starting to thicken.

Sprinkle with minced parsley (optional) and serve.
This tasty, nutritious breakfast will improve your gut health while keeping you satisfied and preventing cravings for any of your old 'unhealthy' foods. Our Ultimate Candida Diet program contains more than 100 gluten-free, sugar-free recipes just like this, plus lots of valuable advice on symptoms, treatment options, and more. You can find out more here.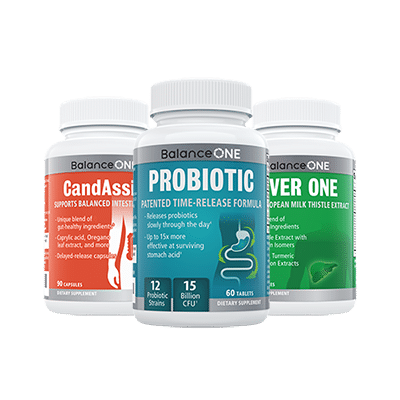 3-Month Candida Elimination Kit
Start Your 3-month Candida Cleanse
This Candida Kit contains all the supplements recommended on the Candida Diet:
- LIVER ONE to process and remove the toxins created by Candida.
- CANDASSIST to inhibit and weaken the Candida colonies in your gut.
- PROBIOTIC to replace the Candida yeast with probiotic bacteria.
Plus... the CANDIDA DIET RECIPE BOOK with 50+ low-sugar recipes
Comments