Asparagus And Anchovies With Soba Noodles
Soba noodles are made from buckwheat and are a great option for a Candida-safe eating plan. Pairing soba noodles with vegetables and a low-toxin fish like anchovies makes for a delicious meal.
Read the label carefully to make sure you don't buy a brand that contains wheat. Many cheaper brands of soba noodles contain wheat, which means they are not gluten-free.
There is now plenty of evidence to suggest that glutenous foods can negatively affect gut health (and overall health!) of people who are not Celiac. If you want to maintain a healthy gut and recover from Candida, make sure to buy soba noodles that are 100% buckwheat.
Many people don't realize that buckwheat isn't a grain (it's a fruit that's often known as a pseudo-grain). Soba noodles are a tasty gluten-free alternative to your regular pasta. You can also use buckwheat flour in your baking, and it works great when combined with coconut flour or almond flour.
Asparagus And Anchovies With Soba Noodles
Ingredients
5

oz.

soba noodles

10

asparagus spears

1

can anchovies in olive oil

3

garlic cloves

1

chili

2

Tbsp.

butter
Instructions
Heat a tablespoon of butter in a pan, then add the chopped garlic, chili, anchovies, and asparagus. Cover with a lid and let cook for 8-10 minutes.

Add the soba noodles to boiling water and cook as directed (usually 4-5 minutes).

Drain the noodles and add to the pan with the other ingredients.

Season and serve.
Nutritious, tasty meals like this are what the Candida diet is all about. If you're looking for more ideas, check out our Ultimate Candida Diet program. It includes more than 100 tasty recipes for every meal and every stage of the Candida diet.
Free Guide To Beating Candida
Sign up to our free, 8-part email course today, and learn how to create your own, personalized Candida treatment plan :)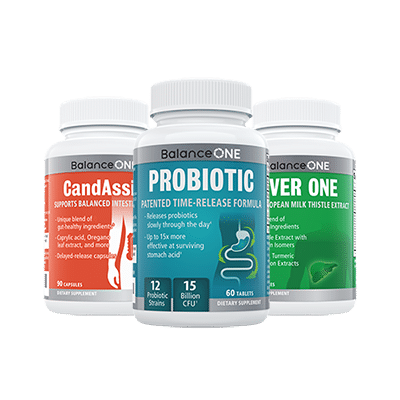 3-Month Candida Elimination Kit
Start Your 3-month Candida Cleanse
This Candida Kit contains all the supplements recommended on the Candida Diet:
- LIVER ONE to process and remove the toxins created by Candida.
- CANDASSIST to inhibit and weaken the Candida colonies in your gut.
- PROBIOTIC to replace the Candida yeast with probiotic bacteria.
Plus... the CANDIDA DIET RECIPE BOOK with 50+ low-sugar recipes