Spring Salad With Mustard Tarragon Dressing
Spring is finally here, and here is a wonderful, fresh-tasting Spring salad to celebrate. The best part of this salad is the subtle flavor of the mustard-tarragon dressing. Make a little extra dressing, store it in your refrigerator, and you can use it as a healthy addition to virtually any salad.
Packed full of healthy nutrients and low in carbohydrates, this recipe uses only ingredients that are safe for a Candida diet. It's a perfect dish to eat during the early phases of the diet. You can eat it alone as a salad, or pair it with some wild salmon or grilled steak. Radish has the added advantage of having antifungal properties too.
One of the keys to following the Candida diet successfully is to find innovative, tasty ways to eat vegetables. This might be difficult or easy, depending on your diet up to this point. Salad dressings like this, which are far healthier than sugary, store-bought dressings, will make any selection of vegetables tasty and appetizing.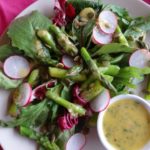 Spring Salad With Mustard Tarragon Dressing
Ingredients
INGREDIENTS FOR SPRING SALAD
12

spears asparagus

3

cups

spring greens

2

radishes

¼

cup

pumpkin seeds, shelled
INGREDIENTS FOR THE MUSTARD TARRAGON DRESSING
1

tsp.

dry mustard

1

Tbsp.

shallot, finely minced

1

Tbsp.

fresh tarragon, finely minced (or 1 tsp. dry tarragon)

3

Tbsp.

apple cider vinegar

¼

cup

olive oil

Salt and pepper to taste
Instructions
With a vegetable peeler, peel asparagus stalks below the leaves, then cut stalks diagonally into 2 inch pieces.

In a saucepan over medium heat, add asparagus pieces, a good pinch of salt and water to just cover. Simmer asparagus until fork tender, remove to a plate, cool.

To prepare the dressing, put all the dressing ingredients into a jar, put a lid on the jar and shake well. You can refrigerate the unused portion.

To finish the salad, first put some Mustard Tarragon Dressing into a salad bowl. Next, add asparagus pieces, spring greens and thinly sliced radishes. Toss salad to dress thoroughly. Sprinkle with pumpkin seeds, serve.
Nutritious, tasty meals like this are what the Candida diet is all about. If you're looking for more ideas, check out our Ultimate Candida Diet program. It includes more than 100 tasty recipes for every meal and every stage of the Candida diet.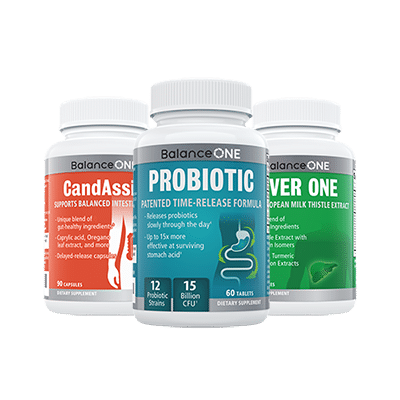 3-Month Candida Elimination Kit
Start Your 3-month Candida Cleanse
This Candida Kit contains all the supplements recommended on the Candida Diet:
- LIVER ONE to process and remove the toxins created by Candida.
- CANDASSIST to inhibit and weaken the Candida colonies in your gut.
- PROBIOTIC to replace the Candida yeast with probiotic bacteria.
Plus... the CANDIDA DIET RECIPE BOOK with 50+ low-sugar recipes