Review: Renew Life Probiotics
Update: My top recommendation for probiotic supplements is now the Balance One probiotic. We designed it just for Candida, with probiotic strains that are particularly good at inhibiting and reversing Candida growth.
It has 15bn CFUs of probiotic bacteria, and it comes in a special tablet form that delivers more bacteria to your gut.
======================
Renew Life has one of the largest selection of probiotics on the market today. This is good news for every Candida sufferer, because the 'one size fits all' approach really does not work for treating Candida infestations.
In fact, determining the right probiotic for you is a difficult decision that can depend on a number of different factors. A wide selection allows you some trial and error, as well as enabling you to tailor your Candida treatment to whatever stage of the diet you are on.
Free Guide To Beating Candida
Sign up to our free, 8-part email course today, and learn how to create your own, personalized Candida treatment plan :)
When you are looking at probiotic supplements you can categorize them by several different criteria. The most important of these are probably the number of bacteria per capsule (it will be billions) and the number of strains (anything from one to twenty or more). Additionally, the exact type of strains found in the probiotic is also very important. Choosing a good probiotic means looking at all these factors and more.
You may need a little trial and error to find the perfect probiotic for you. The huge variations in strains, CFU count, and formulation make it very hard to say that one is 'stronger' or better than another. Take a glance at our big list of probiotics and you'll see what I mean.
In general a probiotic with more bacteria and more individual strains will be more potent than one with fewer bacteria and fewer strains. However, also make note of the delivery system that your probiotics use. Brands like Balance One put their probiotics into tablets that survive stomach acid and get all the way through to the gut (just where you need them!) In fact, this technological innovation has been shown to deliver 15 times as many probiotic bacteria as regular capsules.
Renew Life Probiotics
Renew Life has a large selection of probiotics that cover the entire spectrum from very gentle to very powerful. So how do should you choose? Here are a few that we've picked out from their range:
Ultimate Flora Adult Formula 15 Billion
With 15 billion bacteria (and ten strains) in each slow-release capsule, this is an good choice for those starting their Candida treatment, or those just looking for a probiotic to take as part of their daily routine.
Ultimate Flora Critical Care 50 Billion
With a high Bifido count, 10 strains of bacteria and 50 billion per capsule, this is an good choice for those with a severe case of Candida overgrowth.
Ultimate Flora Critical Colon 80 Billion
If you've tried the 50 billion count probiotic and you haven't experienced any Die-Off symptoms, you could try increasing your dosage. This 80 billion count probiotic is a good option.
Ultimate Flora Senior Formula 30 Billion
As we age, the number of healthy bacteria in our guts declines. The 'Senior Formula' probiotic is designed to address this problem. It contains 10 strains including Bifidobacterium and Lactobacillus.
Shelf-Stable
What do we mean when we say shelf-stable? This simply tells us that the probiotics in the product will not die if left at room temperature. Shelf-stable Renew Life probiotics use their 'bio-tract' technology to keep the bacteria alive and deliver them to your gut unharmed. This is an important point to remember when you are looking at probiotics. Some products will advertise a huge number of bacteria, but if not stored properly many of these are likely to be dead by the time you receive them!
FloraSMART is a shelf-stable brand produced by Renew Life. It's excellent if you're traveling or on the go. It comes in easy-to-swallow caplets, each of which contains 10 strains of bacteria including Bifidobacterium, Lactobacillus and Lactococcus. Here are a few options:
FloraSMART 24 Billion
FloraSMART 12 Billion
FloraSMART 6 Billion
Some Background On Renew Life
Renew Life was created by Brenda Watson and her husband Stan. Since its inception in 1997, the company has gone on to become one of the largest providers of probiotic supplements in the US.
Choosing a good probiotic is not always easy. In my Ultimate Candida Diet treatment program, Dr . Eric Wood and I have written a detailed guide to finding a probiotic that will work with your Candida treatment. We also discuss alternative options like soil-based probiotics, Saccharomyces boulardii, and much more.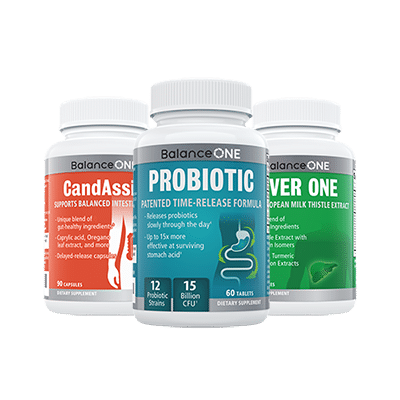 3-Month Candida Elimination Kit
Start Your 3-month Candida Cleanse
This Candida Kit contains all the supplements recommended on the Candida Diet:
- LIVER ONE to process and remove the toxins created by Candida.
- CANDASSIST to inhibit and weaken the Candida colonies in your gut.
- PROBIOTIC to replace the Candida yeast with probiotic bacteria.
Plus... the CANDIDA DIET RECIPE BOOK with 50+ low-sugar recipes