This Indonesian dish has lots of flavor and is a really tasty way to eat lots of nutritious vegetables during your Candida treatment. It's high in fiber, rich in micronutrients, and a tasty way to improve your gut health.
This recipe is designed for the later stages of the Candida diet, and so it includes rice and carrots which are both on the list of "maybe" foods. If you wish, you can adjust the recipe to substitute in other vegetables and perhaps some quinoa instead of the rice.
In Indonesian and Malay, Nasi Goreng literally just means "fried rice." But in practice it usually refers to dishes that include fried pre-cooked rice, soy sauce, tamarind, and other flavors. This version is a little different, with more of a savory flavor, no soy sauce, and less of the sweetness from the tamarind.
Veggie Nasi Goreng
Ingredients
½

cup

uncooked wild or brown rice

2

eggs

1

yellow pepper

2

red onions

1

carrot, sliced with a potato peeler

2

red chilies

3

garlic cloves

2

spring onions, cut lengthwise

Handful of cilantro

4

Tbsp.

sesame oil

Salt
Instructions
Cook rice as directed and set aside.

Scramble the eggs in a wok (or frying pan if you don't have one) and also set these aside.

Blend one onion, half a chili the and garlic in a food processor to make a paste.

Add the sesame oil and and the paste to your wok and fry for 3 minutes.

Next, add the thinly sliced onion, red chilies, yellow peppers and carrot, and cook for another 3 minutes.

Now add the rice for a further 2 minutes, then the eggs, spring onion and cilantro for another minute.

Now you're done and its ready to serve!
My Ultimate Candida Diet program includes more than 100 tasty recipes for every meal and every stage of the Candida diet. They are gluten-free, sugar-free, and absolutely delicious! Dr Wood and I have also included lots of valuable advice on how to beat Candida, and which foods to eat and avoid.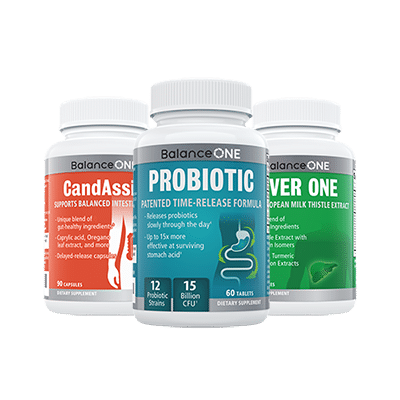 3-Month Candida Elimination Kit
Start Your 3-month Candida Cleanse
This Candida Kit contains all the supplements recommended on the Candida Diet:
- LIVER ONE to process and remove the toxins created by Candida.
- CANDASSIST to inhibit and weaken the Candida colonies in your gut.
- PROBIOTIC to replace the Candida yeast with probiotic bacteria.
Plus... the CANDIDA DIET RECIPE BOOK with 50+ low-sugar recipes
Comments