Vegetables, Goat Cheese & Quinoa
This is a colorful, summery salad that is really easy to prepare. Cheese is not allowed during the first stages of the diet, but you can try goat cheese which tends to be easier on the digestive system. In fact, goat cheese contains an antifungal named caprylic acid that can even help to keep your Candida under control.
For vegetarians, quinoa is a fantastic way to get sufficient protein during the diet. Quinoa is remarkable in being both vegetarian-friendly and a complete source of protein. Quinoa contains all the essential amino acids that your body needs. It packs a really powerful nutritional punch, especially compared to rice, so make sure to add it to your diet!
You can eat this salad by itself, or serve it as a side with another main dish. It's a fresh, tasty salad that will complement most dishes very well. Enjoy!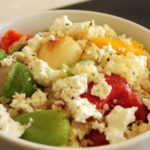 Vegetables, Goat Cheese & Quinoa
Ingredients
½

cup

uncooked quinoa

3

bell peppers (different colors if possible)

6-10

cherry tomatoes

6-10

shallots

6-10

garlic cloves

Handful of fresh basil leaves

Small chunk of goat cheese

Juice of half a lemon

1

Tbsp.

Apple Cider Vinegar

Olive oil

Salt and pepper
Instructions
Heat the oven to 450 degrees F.

Place chopped up peppers, peeled shallots, peeled garlic cloves and cherry tomatoes on a roasting pan. Toss with the olive oil, salt and pepper. Spread in a single layer in the pan.

Roast for 30 minutes, stirring occasionally, until the vegetables are lightly browned and tender.

Cook quinoa as directed.

Add the roasted vegetables and quinoa to a bowl. Toss and serve with crumbled goat cheese on top.
Healthy meals like this are an excellent option for a light snack on the Candida diet. Our Ultimate Candida Diet program is packed full of gluten-free, sugar-free recipes like this. It contains more than 100 recipes in total, and they're all perfect for the Candida diet. Find out more here.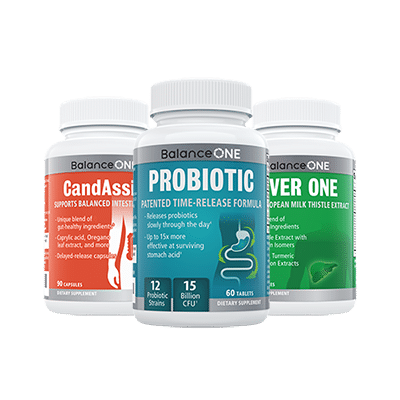 3-Month Candida Elimination Kit
Start Your 3-month Candida Cleanse
This Candida Kit contains all the supplements recommended on the Candida Diet:
- LIVER ONE to process and remove the toxins created by Candida.
- CANDASSIST to inhibit and weaken the Candida colonies in your gut.
- PROBIOTIC to replace the Candida yeast with probiotic bacteria.
Plus... the CANDIDA DIET RECIPE BOOK with 50+ low-sugar recipes
Comments