Eating eggs is a great way to give your nutrition a boost, and make sure that you have lots of energy for the rest of the morning. This simple omelet recipe is healthy, delicious and satisfying, and its perfect for a Candida diet. You can also use coconut oil instead of the olive oil if you prefer.
You can serve this omelet with a few slices of coconut bread. Try experimenting by adding tarragon, chives and parsley, or some chili flakes for a little added spice. If you're later in the diet then you can grate some cheese on top too. Enjoy!
Vegetable Omelet
Ingredients
2-3

organic eggs

2

Tbsp.

olive oil

½

small onion, chopped

½

red pepper, chopped

Handful of fresh spinach

Sea salt
Instructions
In a skillet, heat the olive oil over a medium-high heat.

Start cooking the onions and peppers, then add the spinach a few minutes later. When the spinach wilts, set aside all the vegetables in a small bowl.

In another bowl, beat the eggs until they are fully mixed. Add a little salt and pepper to taste. Add the eggs to your skillet and quickly spread them around the pan.

After a minute or so, add the vegetables to one half of the omelet. Fold the omelet over to cover the vegetables. Slide out of the skillet on to your plate.

Season again with salt, if necessary, and serve.
Looking for more gluten-free, sugar-free recipes? My Ultimate Candida Diet program contains more than 50 delicious recipes, plus lots of valuable advice on which foods to eat and avoid. Find out more here.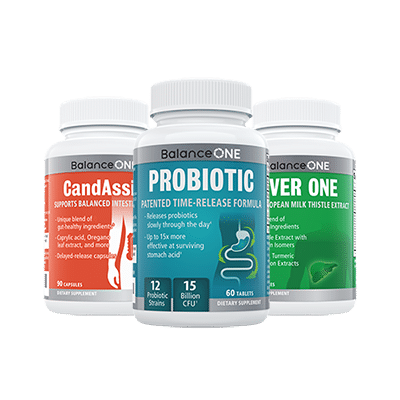 3-Month Candida Elimination Kit
Start Your 3-month Candida Cleanse
This Candida Kit contains all the supplements recommended on the Candida Diet:
- LIVER ONE to process and remove the toxins created by Candida.
- CANDASSIST to inhibit and weaken the Candida colonies in your gut.
- PROBIOTIC to replace the Candida yeast with probiotic bacteria.
Plus... the CANDIDA DIET RECIPE BOOK with 50+ low-sugar recipes