Vanilla Cardamom Ice Cream
Cardamom, an ancient spice, has an exotic, aromatic flavor all its own. It is popular in India and in the Middle East in creamy pudding and ice cream recipes, like this tasty Vanilla Cardamom Ice Cream.
The coconut milk competes with the taste of the cardamom, leaving just a hint of that strong, sweet spicy taste. Mellow vanilla adds a touch of softness. The perfect pairing.
Just like my coconut vanilla custard recipe, this recipe shows how sugary treats can be turned into healthy snacks. You just need to get a little inventive with your ingredient choices, and be open to some new and interesting flavors. Coconut milk also has the advantage of being fantastic for your gut health 🙂
To fully appreciate cardamom's unique flavor, try to always purchase it in the pod. Store-bought ground cardamom will usually have less flavor than the freshly ground variety.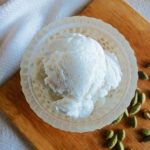 Vanilla Cardamom Ice Cream
Servings
:
3
to 4 servings
Ingredients
2

cups

coconut milk

2

Tbsp.

vegetable glycerin

¾

tsp.

powdered stevia

¾

tsp.

ground cardamom, from fresh green pods if possible, 5 to 6 pods

1

vanilla bean, split lengthwise and scraped or 1 teaspoon alcohol free vanilla extract

⅛

tsp.

salt
Instructions
With the bottom of a sauce pan, crush the cardamom pods to open. Separate the seeds from the pod shells, reserving the pod shells. Grind the seeds with a mortar and pestle, spice grinder or coffee grinder. Set the ground seeds and the pod shells aside.

Split the vanilla bean in half lengthwise. Place the bean cut sides up and with the back of a knife, scrape out the seeds the entire length of the bean. Set the seeds and the pod aside.

In a sauce pan, add coconut milk, vegetable glycerin, powdered stevia, ground cardamom seeds and pods, vanilla seeds and pod and salt. Stir to combine. Bring the cream mixture to a simmer, remove from heat, and steep for 30 minutes. Strain the cream mixture into a bowl through a fine mesh sieve, pressing to extract the liquid, ground cardamom and vanilla seeds. Place the bowl of cream mixture into the refrigerator and chill for 3 to 4 hours.

Pour the cream mixture into an ice cream maker and follow manufacturer's instructions. Churn until the ice cream is set, about 20 minutes. Place the ice cream in an airtight container and freeze for about 3 to 4 hours. Serve.
Nutritious, tasty desserts like this are what the Candida diet is all about. If you're looking for more ideas, check out our Ultimate Candida Diet program. It includes more than 100 tasty recipes for every meal and every stage of the Candida diet.
Free Guide To Beating Candida
Sign up to our free, 8-part email course today, and learn how to create your own, personalized Candida treatment plan :)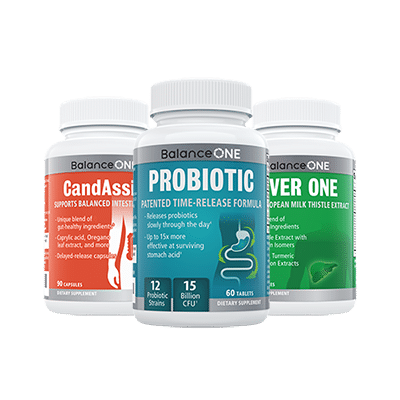 3-Month Candida Elimination Kit
Start Your 3-month Candida Cleanse
This Candida Kit contains all the supplements recommended on the Candida Diet:
- LIVER ONE to process and remove the toxins created by Candida.
- CANDASSIST to inhibit and weaken the Candida colonies in your gut.
- PROBIOTIC to replace the Candida yeast with probiotic bacteria.
Plus... the CANDIDA DIET RECIPE BOOK with 50+ low-sugar recipes
Comments