Turkey and Sage Breakfast Patties
These savory Turkey and Sage Breakfast Patties, flavored with fresh herbs and spices, are a great way to add healthy protein to any breakfast. Quick and easy to make, they cook up in no time. Serve the patties by themselves, with some leafy greens, or as a tasty breakfast sandwich with coconut bread.
To save preparation time, double the recipe and freeze the extra patties in a single layer on parchment paper. Then, stack the frozen patties with a layer of parchment paper between each one, and store in a resealable freezer bag. Remove the patties from the freezer as needed.
This recipes includes two ingredients – onions and olive oil – that are on our antifungal foods list. Both of these can help to normalize your gut flora and restore a healthy balance to your gut. By incorporating foods like these into your diet, and limiting the sugar that you eat, you can take a big step towards beating your Candida overgrowth.
One of the best things about this dish is that it will give you sustained energy throughout the morning. Rich in healthy proteins, it won't spike your blood sugar like a bowl of breakfast cereal. That means you'll still be going strong when lunchtime comes around.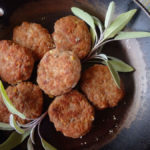 Turkey and Sage Breakfast Patties
Ingredients
1

lb.

ground turkey

1

Tbsp.

fresh sage, finely minced (or 1 tsp. dried sage, crumbled)

1

Tbsp.

green onions, finely minced

½

tsp.

dried thyme

½

tsp.

dried garlic flakes

½

tsp.

salt

¼

tsp.

pepper

Pinch

of red pepper flakes

2

Tbsp.

olive or coconut oil
Instructions
Place all ingredients in a large bowl and mix until just combined (over-working the mixture will make the patties tough).

Divide mixture into eight equal portions. Form into 1/2 inch thick patties, set aside.

Heat 1 tablespoon of oil in a large skillet over medium heat. Cook patties, four at a time, about 3 to 4 minutes per side or until they are nicely browned and cooked through. Repeat with remaining patties. Serve.
Looking for more gluten-free, sugar-free recipes? My Ultimate Candida Diet program contains more than 100 delicious recipes, plus lots of valuable advice on which foods to eat and avoid. Find out more here.
Free Guide To Beating Candida
Sign up to our free, 8-part email course today, and learn how to create your own, personalized Candida treatment plan :)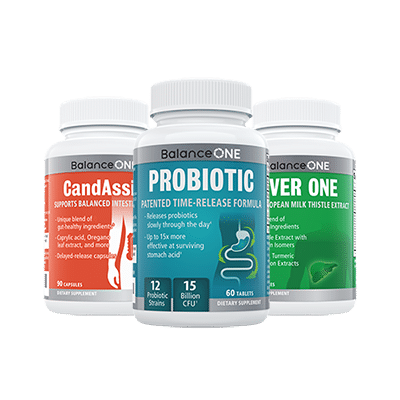 3-Month Candida Elimination Kit
Start Your 3-month Candida Cleanse
This Candida Kit contains all the supplements recommended on the Candida Diet:
- LIVER ONE to process and remove the toxins created by Candida.
- CANDASSIST to inhibit and weaken the Candida colonies in your gut.
- PROBIOTIC to replace the Candida yeast with probiotic bacteria.
Plus... the CANDIDA DIET RECIPE BOOK with 50+ low-sugar recipes
Comments