Toasted Coconut and Lime Salmon
A simple marinade and a crunchy crust are the perfect complements to wild caught salmon fillets in this recipe for Toasted Coconut and Lime Salmon.
In this recipe we've included coconut products like coconut aminos, shredded coconut, and coconut oil, which are all helpful for maintaining a healthy balance in your gut.
Coconut aminos is a key ingredient in the marinade. Made from coconut blossom nectar from the coconut palm tree, it makes a perfect substitution for soy sauce and is excellent for marinades. The nectar is fermented and then blended with sea salt, producing a unique salty and sweet sauce that adds a hint of umami to recipes. Paired with fresh lime juice in this recipe, it creates a marinade with a simple, clean taste that enhances the flavor of the salmon.
To finish the dish, unsweetened shredded coconut is sprinkled over the salmon fillets. The result is a crust as crispy as breadcrumbs, creating a nice crunchy texture.
This is a super-simple recipe that might just become your new favourite way to prepare salmon!
Free Guide To Beating Candida
Sign up to our free, 8-part email course today, and learn how to create your own, personalized Candida treatment plan :)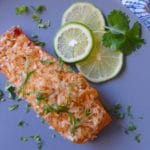 Toasted Coconut and Lime Salmon
Ingredients
2

Tbsp.

fresh lime juice

2

Tbsp.

coconut aminos

1/4

tsp.

chili powder

1/4

tsp.

salt

1

Tbsp.

coconut oil

2

four-ounce salmon fillets, skin on

2

Tbsp.

unsweetened shredded coconut

Fresh cilantro, finely minced

Fresh lime slices
Instructions
Combine the lime juice, coconut aminos, chill powder and salt in a shallow dish big enough to hold the salmon fillets, whisk to combine. Add the fillets, skin side up, and marinate for 30 minutes.

Preheat the oven to 425 degrees F ( 218 degrees C ). Brush a rimmed baking sheet with the coconut oil. Place the salmon fillets on the baking sheet, skin side up, and bake for 5 minutes. Carefully turn the fillets over and sprinkle the tops evenly with the unsweetened shredded coconut. Bake for another 2 to 3 minutes or until the coconut is golden brown.

Serve the salmon fillets with a garnish of finely minced fresh cilantro and lime slices.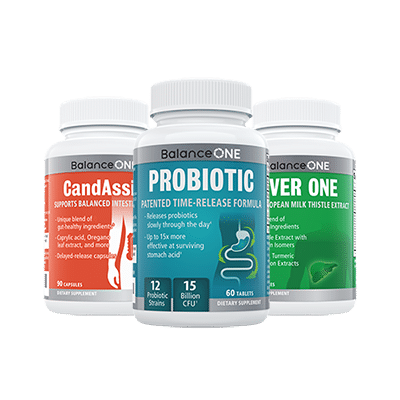 3-Month Candida Elimination Kit
Start Your 3-month Candida Cleanse
This Candida Kit contains all the supplements recommended on the Candida Diet:
- LIVER ONE to process and remove the toxins created by Candida.
- CANDASSIST to inhibit and weaken the Candida colonies in your gut.
- PROBIOTIC to replace the Candida yeast with probiotic bacteria.
Plus... the CANDIDA DIET RECIPE BOOK with 50+ low-sugar recipes