Enjoy healthy and delicious Indian flavors cooked right in your own home. Our recipe for the takeaway classic, Tandoori Chicken, is piquant and juicy and is served with a cooling, creamy Raita Dip.
Tandoori Chicken is a traditional northern Indian dish. Chicken is marinated in a mixture of spices and yogurt, then cooked in a clay oven. In this recipe, a hot oven produces similar results. The spicy, tangy yogurt marinade tenderizes the chicken thighs, which are baked and then broiled, locking in the moisture and creating a nice, slightly charred crust.
Marinating the chicken thighs overnight creates a juicy, tender tandoori chicken with incredible depth of flavor. Using boneless, skinless chicken thighs allows the spices in the marinade to penetrate the meat, while the yogurt seals in the moisture during cooking.
There is nothing quite like Indian food and our flavorful Tandoori Chicken is sure to please the adventurous palate. Serve with a side of quinoa and vegetables for a satisfying meal.
Tandoori Chicken
Ingredients
Ingredients for Tandoori Chicken
1

cup

plain yogurt

1

Tbsp.

olive oil

1

Tbsp.

fresh lemon juice

1

tsp.

fresh grated ginger

2

cloves

of garlic, minced

1/2

tsp.

salt

1/2

tsp.

turmeric powder

1

tsp.

chilli powder

1

tsp.

coriander powder

1

tsp.

cumin powder

1

lb.

boneless, skinless chicken thighs (about 6)

Garnish of cucumber, green onion, cilantro and mint leaves
Ingredients for Raita Dip
1

cup

plain yogurt

1/2

cup

grated cucumber

1

Tbsp.

finely minced fresh mint leaves

Salt to taste

Pinch

of cumin powder

Pinch

of red pepper flakes
Instructions
Directions for Tandoori Chicken
In a large, shallow bowl or dish, add the plain yogurt, olive oil, fresh lemon juice, fresh grated ginger, minced garlic, salt, turmeric powder, chili powder, coriander powder and cumin powder, stir to combine. Add the boneless, skinless chicken thighs to the marinade, turning to coat. Cover and marinate in the refrigerator overnight.

Preheat oven to 350 degrees F (180 degrees C).

Line a rimmed baking sheet with foil, then place a well oiled baking rack in the middle of the baking sheet. Place the chicken thighs on the baking rack and bake for about 30 to 35 minutes, turning halfway and basting with the reserved marinade.

Remove the chicken thighs from the oven, turn and baste again, then broil for 3 to 4 minutes or until lightly charred. Serve immediately with the Raita Dip.
Directions for Raita Dip
In a small bowl, add the yogurt, grated cucumber, finely minced fresh mint leaves and salt to taste, stir to combine. Serve the dip sprinkled with cumin powder and red pepper flakes.
This recipe is full of healthy protein and flavored with lots of amazing spices. It's an awesome example of how healthy foods can be made into an absolutely delicious meal! It's just the kind of filling, balanced, super-healthy meal that's perfect for the Candida diet. Our Ultimate Candida Diet program contains more than 100 gluten-free, sugar-free recipes just like this, plus lots of valuable advice on symptoms, treatment options, and more. Find out more here.
Free Guide To Beating Candida
Sign up to our free, 8-part email course today, and learn how to create your own, personalized Candida treatment plan :)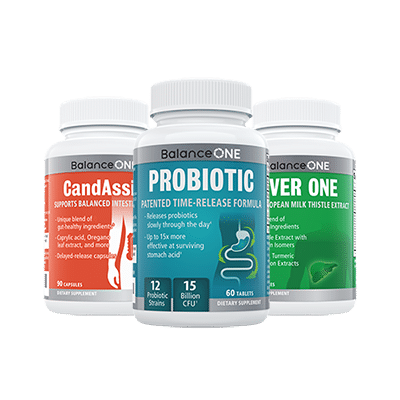 3-Month Candida Elimination Kit
Start Your 3-month Candida Cleanse
This Candida Kit contains all the supplements recommended on the Candida Diet:
- LIVER ONE to process and remove the toxins created by Candida.
- CANDASSIST to inhibit and weaken the Candida colonies in your gut.
- PROBIOTIC to replace the Candida yeast with probiotic bacteria.
Plus... the CANDIDA DIET RECIPE BOOK with 50+ low-sugar recipes