Stuffed Peppers With Beef And Millet
This tasty stuffed peppers recipe uses lots of herbs and spices to create a really full flavor. Millet is on the YES list of foods to eat on the Candida diet, but you should consider only eating it in smaller amounts until you reach the later stages, as it can be mildly aggravating to those with particularly sensitive guts.
Also note that this recipe contains minced beef. Beef is on the MAYBE list, along with other red meats, because it is difficult to digestive and can tend to increase the pH in your gut. Again, small amounts are usually OK for most people, but be conscious of how you feel after you eat it and look out for any increased symptoms. You can also leave out the beef and add another egg to balance out the protein content.
You can serve these stuffed peppers by themselves or with a little plain, probiotic yogurt. Also remember that you can spice it up or add as many herbs as you wish. One of the best meal-planning tips on the Candida diet is to use lots of herbs and spices to bring out the flavor in all that delicious, fresh food.
Ingredients (2 servings)
1/2 lb. minced beef
1/5 cup of uncooked millet
2 red bell peppers, halved length-wise
1 tomato, chopped
1 egg, lightly beaten
1 large onion, finely chopped
3 garlic cloves, finely chopped
1 chili, finely chopped
3 Tbsp. olive oil
1 Tbsp. dried basil
1 Tbsp. dried parsley
1/4 tsp. salt
1/4 tsp. pepper
Preparation
Cook the millet as directed.
Cook the onions, garlic, chilies and tomato with 1 tablespoon of olive oil in a pan for 3 minutes.
Add the meat to the pan and cook until no longer pink.
Now mix together all the ingredients except for the red peppers. Pack the mixture into the red pepper halves.
Bake at 350 degrees F for 30 minutes, or until peppers are tender.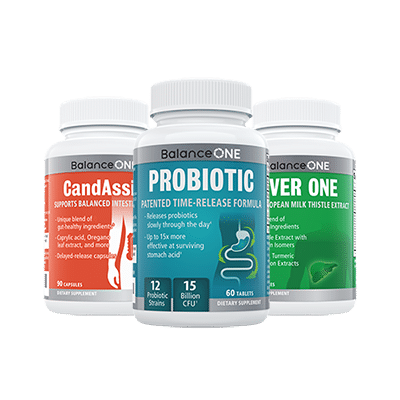 3-Month Candida Elimination Kit
Start Your 3-month Candida Cleanse
This Candida Kit contains all the supplements recommended on the Candida Diet:
- LIVER ONE to process and remove the toxins created by Candida.
- CANDASSIST to inhibit and weaken the Candida colonies in your gut.
- PROBIOTIC to replace the Candida yeast with probiotic bacteria.
Plus... the CANDIDA DIET RECIPE BOOK with 50+ low-sugar recipes
Comments