These spicy jalapeño meatballs can be made with your choice of ground chicken or turkey. They're baked, not fried, meaning that you can use less oil and they are much easier to cook! Just pop them in the oven and they are ready to eat in less the 20 minutes.
These protein-packed meatballs are moist and packed with flavor thanks to fresh jalapeño, fresh cilantro, and fresh lime juice. Serve with a salad tossed in a simple lime dressing for a satisfying lunch or dinner.
This is a great recipe to make ahead and freeze. Make a large batch and divide into meal-sized portions. Then you can take them out of the freezer and into the oven for a quick, nutritious meal when you are short on time.Enjoy!
Spicy Jalapeno Meatballs
Ingredients
1

Tbsp.

oil, olive or coconut

1

lb.

ground chicken or turkey

1/4

cup

cilantro, finely minced

1

jalapeno, finely diced

1

Tbsp.

fresh lime juice

1

tsp.

salt

1/2

tsp.

pepper

1/2

tsp.

cumin powder
Instructions
Preheat oven to 400 degrees F/205 degrees C. Brush a rimmed baking sheet with a tablespoon of oil, set aside.

In large bowl, mix together ground chicken or turkey, finely minced cilantro, finely diced jalapeno, fresh lime juice, salt, pepper and cumin powder. With wet hands, form meat mixture into 20 balls.

Place meatballs on oiled baking sheet, about an inch apart. Bake for 15 to 20 minutes or until the meatballs are thoroughly cooked.

Serve meatballs with a side salad drizzled with a simple dressing of 1 tablespoon fresh lime juice, 2 tablespoons olive oil, a pinch of powdered stevia and salt and pepper to taste.
Recipe Notes
Chill any remaining meatballs in the refrigerator, freeze in a single layer on a baking sheet, then place meatballs in an air tight container and freeze up to 3 months. To thaw meatballs, let container stand in the refrigerator overnight or use meatballs in recipes frozen, straight from the freezer.
Tasty, nutritious recipes like this will give your body and immune system what it needs to stay healthy and fight off pathogenic yeast or viruses. Our Ultimate Candida Diet program is packed full of gluten-free, sugar-free recipes just like this one. There are more than 100 recipes in total, and they're all perfect for the Candida diet. Learn more here.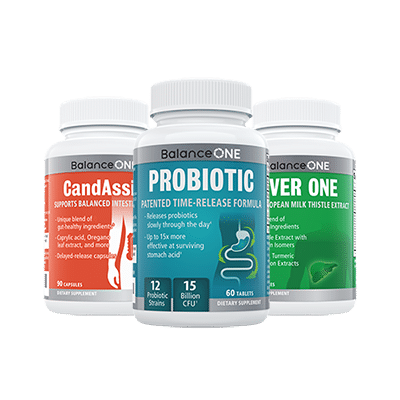 3-Month Candida Elimination Kit
Start Your 3-month Candida Cleanse
This Candida Kit contains all the supplements recommended on the Candida Diet:
- LIVER ONE to process and remove the toxins created by Candida.
- CANDASSIST to inhibit and weaken the Candida colonies in your gut.
- PROBIOTIC to replace the Candida yeast with probiotic bacteria.
Plus... the CANDIDA DIET RECIPE BOOK with 50+ low-sugar recipes
Comments