These delicious Spanish-inspired cucumber rolls are like a little taste of spring. They make for a great afternoon snack, or you can use them as a healthy appetizer to impress your dinner guests! Best of all, they are full of natural ingredients and flavors that are great for your health.
Ingredients like garlic, red pepper, and almonds can be used raw in this recipe, but roasting and toasting them tends to give a richer flavor. Also, remember to use saffron sparingly! If too much is used, it can easily overpower the other flavors in the filling.
These cucumber rolls only take a few minutes to prepare, but they are a really impressive dish to pull out at any family event or gathering. Give them a try and let me know what you think!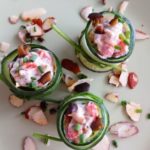 Spanish Cucumber Rolls
Ingredients
1

medium cucumber

¼

cup

Greek-style probiotic yogurt

1

clove

roasted garlic, mashed

2

Tbsp.

roasted red pepper, finely diced

2

Tbsp.

black olives (packed in water), finely diced

2

Tbsp.

sliced almonds, toasted

1

Tbsp.

parsley, finely minced

¼

tsp.

salt

A tiny pinch of saffron

Pepper to taste

Fresh chive stems for tying rolls
Instructions
Using a mandoline, slice the cucumber lengthwise into long, thin strips. Lay the strips on paper toweling to absorb excess moisture, set aside.

In a medium bowl, add yogurt, garlic, red pepper, black olives, almonds, parsley, salt, and saffron, then stir to combine. Season with pepper to taste.

To make rolls, place a rounded teaspoonful of the filling on one end of each cucumber strip, then gently roll and tie in place with fresh chive stems.

Chill, and serve.
Healthy meals like this are an excellent option for a light snack on the Candida diet. Our Ultimate Candida Diet program is packed full of gluten-free, sugar-free recipes like this. It contains more than 100 recipes in total, and they're all perfect for the Candida diet. Find out more here.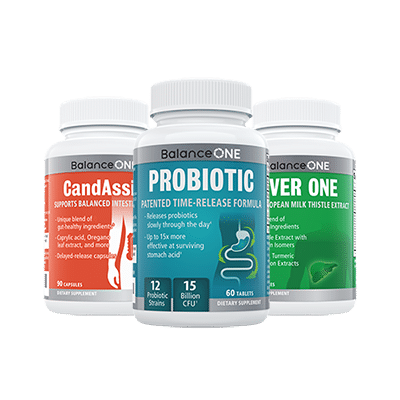 3-Month Candida Elimination Kit
Start Your 3-month Candida Cleanse
This Candida Kit contains all the supplements recommended on the Candida Diet:
- LIVER ONE to process and remove the toxins created by Candida.
- CANDASSIST to inhibit and weaken the Candida colonies in your gut.
- PROBIOTIC to replace the Candida yeast with probiotic bacteria.
Plus... the CANDIDA DIET RECIPE BOOK with 50+ low-sugar recipes
Comments