This Asian-inspired dish is really simple to prepare, filling and very tasty. I have included sesame oil as a dressing, but it would be great with some coconut aminos too (see our guide to coconut products to learn more about coconut aminos).
Soba noodles are made from a pseudo-grain named buckwheat. They have a lower Glycemic Load than regular noodles, are much better for your gut health, and are a great alternative if you're on a Candida diet.
When you buy soba noodles, make sure to check the ingredients carefully. Some soba noodles (especially cheaper brands) contain a mix of buckwheat and wheat. Look for the brands that are entirely buckwheat, as glutenous grains like wheat can irritate the intestinal membrane.
You can through all kinds of different vegetables in this dish. Bok choy, broccoli, leeks – they would all work. Take a look in your fridge and see what you can use!
Soba Seaweed Salad
Ingredients
2

oz.

soba noodles

¼

cup

dry Wakame seaweed

2

tomatoes

1

avocado

2

Tbsp.

sesame oil

Sprinkle of sesame seeds

Salt to taste
Instructions
Soak the seaweed in a bowl with warm water for about 10 minutes.

Boil the soba noodles for 6 minutes.

Chop the tomatoes and avocado, then add everything to a bowl and mix.

Drizzle with sesame oil and sprinkle with the sesame seeds.
My Ultimate Candida Diet program includes more than 100 tasty recipes for every meal and every stage of the Candida diet. They are gluten-free, sugar-free, and absolutely delicious! Dr Wood and I have also included lots of valuable advice on how to beat Candida, and which foods to eat and avoid.
Free Guide To Beating Candida
Sign up to our free, 8-part email course today, and learn how to create your own, personalized Candida treatment plan :)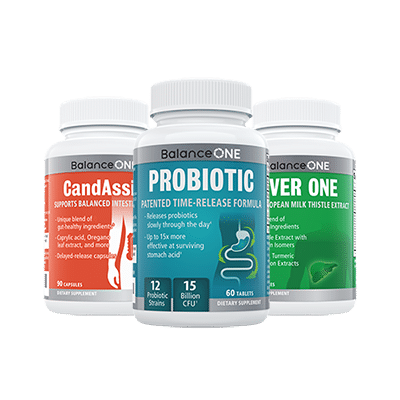 3-Month Candida Elimination Kit
Start Your 3-month Candida Cleanse
This Candida Kit contains all the supplements recommended on the Candida Diet:
- LIVER ONE to process and remove the toxins created by Candida.
- CANDASSIST to inhibit and weaken the Candida colonies in your gut.
- PROBIOTIC to replace the Candida yeast with probiotic bacteria.
Plus... the CANDIDA DIET RECIPE BOOK with 50+ low-sugar recipes
Comments