Fish pie, or fisherman's pie, is a traditional British dish. It is usually made with a variety of fish from the daily catch simmered in a creamy white sauce and topped with buttery mashed potatoes finished to a golden brown in the oven.
Our Candida Diet version uses wild-caught salmon fillets in a lemony white sauce with a simple cauliflower puree topping, a nice substitute for the traditional mashed potato topping but with the same comforting texture.
This healthy Skillet Fish Pie recipe is very easy to make and requires a lot less preparation time than traditional fish pie. Made in one skillet with a few healthy swaps, it is simple and easy to prepare without compromising on flavor.
There is something so warming about a fish pie. It is a good dish for children but nice enough to serve to guests. It's classic comfort food and a favorite cold weather dinner when you're craving something warm and hearty.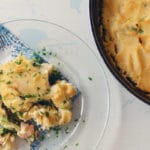 Skillet Fish Pie
Ingredients
1

large cauliflower, about a pound, cut into florets

2

Tbsp.

olive oil

Salt and pepper to taste

2

Tbsp.

olive oil

1

leek, white and pale green parts only, coarsely chopped

2

stalks celery, diced

1

Tbsp.

quinoa flour

1

cup

warm water

1

tsp.

lemon zest

2

tsp.

fresh thyme leaves

1/4

cup

freshly minced parsley

Salt and pepper to taste

1

lb.

skinless, wild caught salmon fillets cut into 1 inch pieces

2

Tbsp.

fresh lemon juice

1

cup

fresh spinach leaves
Instructions
In a medium saucepan, heat about 2 inches of water to a simmer over medium heat. Place a steamer basket in the saucepan, add cauliflower florets, then cover and steam until very tender, about 15 minutes.

Place steamed cauliflower florets in the bowl of a food processor with 2 tablespoons of olive oil and process until smooth. Season with salt and pepper to taste, set aside. If the puree is to thick, add a bit of the steaming water and process to slightly thinner, spreadable consistency.

While cauliflower is steaming, prep your ingredients.

Preheat the oven to 400 degrees F (200 degrees C).

In a large oven proof skillet, heat 2 tablespoons of olive oil over medium heat. Add chopped leeks and diced celery and saute until softened, about 7 minutes. Add quinoa flour and stir to coat vegetables. Add water, stirring constantly until you have a smooth sauce. Bring sauce to a boil, reduce heat to medium low and simmer until thickened, about 2 to 3 minutes. Stir in lemon zest, fresh thyme leaves and fresh minced parsley. Season with salt and pepper to taste.

Add salmon pieces to the skillet and drizzle over with the fresh lemon juice. Finally add the fresh spinach leaves and gently toss everything to mix.

Dot and spread the cauliflower puree evenly over the top of the salmon and vegetable mixture.

Place skillet in the oven and bake for 40 minutes or until top is golden brown. Remove the skillet fish pie from the oven and let it rest for 10 minutes before serving. Garnish with a sprinkling of fresh minced parsley.
This skillet fish pie is a warming winter meal for all the family. It's gluten-free, dairy-free, and low in carbohydrates. You can find more than 100 low-carb, gluten-free recipes just like this in our Ultimate Candida Diet program, which I wrote with Dr Eric Wood.
Free Guide To Beating Candida
Sign up to our free, 8-part email course today, and learn how to create your own, personalized Candida treatment plan :)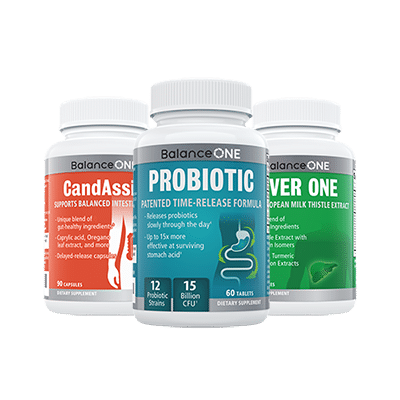 3-Month Candida Elimination Kit
Start Your 3-month Candida Cleanse
This Candida Kit contains all the supplements recommended on the Candida Diet:
- LIVER ONE to process and remove the toxins created by Candida.
- CANDASSIST to inhibit and weaken the Candida colonies in your gut.
- PROBIOTIC to replace the Candida yeast with probiotic bacteria.
Plus... the CANDIDA DIET RECIPE BOOK with 50+ low-sugar recipes
Comments