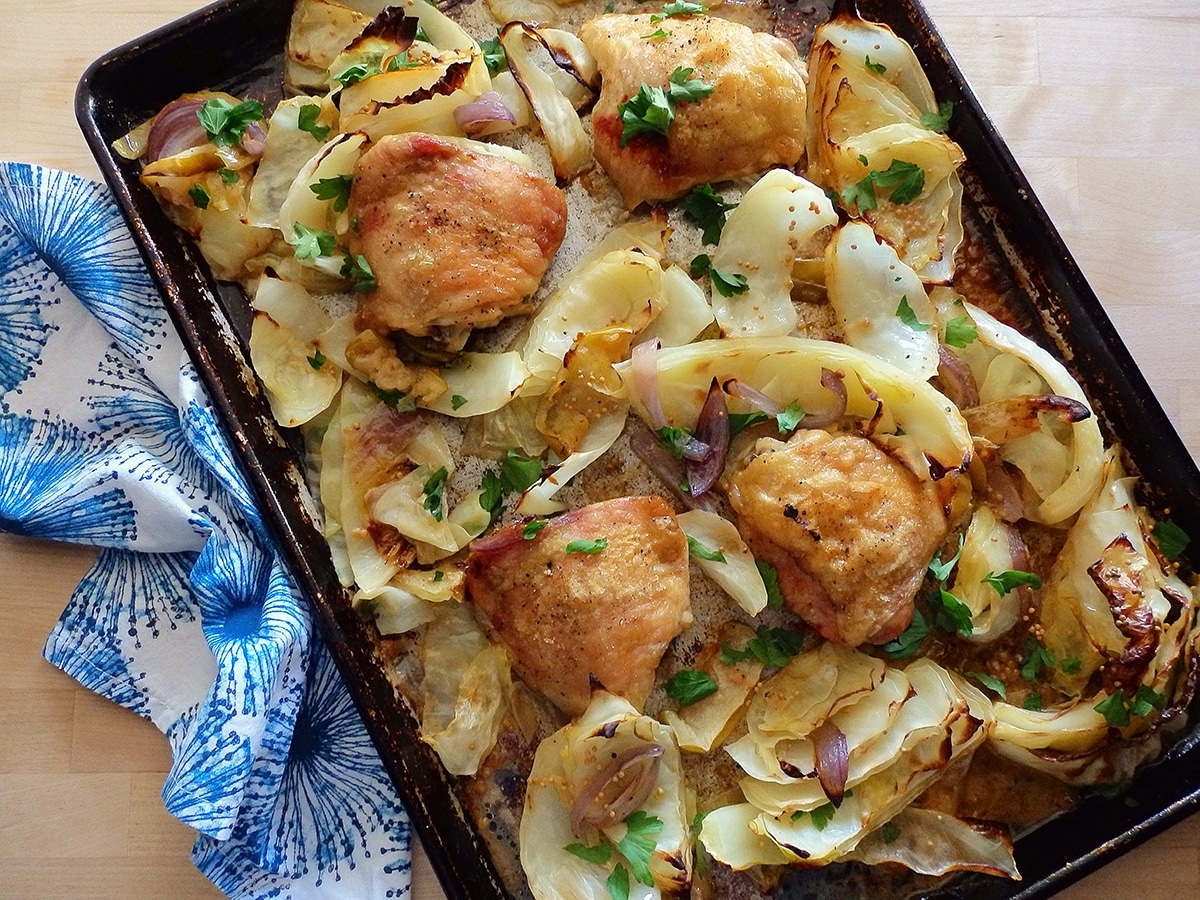 This simple Sheet Pan Chicken recipe comes together quickly and all on one pan. Adding ingredients in stages allows for each to roast fully and brown nicely. The final addition of the sauce at the end gives it just enough time to become thick and rich.
Choose chicken thighs over breasts as they are more economical and more flavorful than chicken breasts. Baking the thighs with the skin on has a self-basting result, creating a meat that is juicy and tender.
In this recipe, we paired the chicken breasts with cabbage, red onion, and green apples. Green apples and berries are a low-sugar fruit that is acceptable in small amounts on low-carb diets like the Candida diet. When you include carbs in your diet, it's always a good idea to pair them with fats and protein (like the chicken thighs and coconut milk in this recipe) to prevent your blood sugar from spiking.
This sheet pan chicken is the perfect dish for a family dinner and can be easily doubled or trebled when friends come to dinner. Enjoy 🙂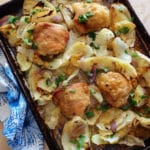 Sheet Pan Chicken
Ingredients
3

Tbsp.

oil, such as olive or coconut, melted

4

skin-on, bone-in chicken thighs

1

tsp.

salt

Pepper to taste

1

small head cabbage, between 1 to 2 lbs, cut into wedges

1

cup

red onion wedges

1

Granny Smith apple, cut into wedges

1

cup

canned coconut milk

1

tsp.

mustard powder

1

tsp.

mustard seeds

Fresh chopped parsley for garnish
Instructions
Preheat oven to 425 degrees F/218 degrees C.

Drizzle 1 tablespoon oil over a rimmed sheet pan. Evenly space chicken thighs on prepared pan, season with 1/2 teaspoon salt and pepper to taste, then drizzle with another 1 tablespoon of oil. Roast chicken for 15 minutes. Remove pan from oven and nestle cabbage, red onion and apple wedges all around the chicken. Season cabbage, red onion and apple wedges with remaining 1/2 teaspoon salt and pepper to taste, then drizzle with remaining 1 tablespoon oil. Return sheet pan to oven and roast for another 20 minutes, until chicken is golden and cooked through.

Meanwhile, in a small bowl add coconut milk, mustard powder and a pinch of salt and pepper, whisk to combine.

Remove pan from oven, give vegetables a quick toss to ensure even browning. Pour coconut milk mixture over cabbage, red onion and apples only, then sprinkle with mustard seeds. Return sheet pan to oven and roast for 10 minutes, until coconut milk mixture has reduced and edges of cabbage wedges have browned. Serve immediately, garnished with chopped fresh parsley.
This sheet pan chicken is full of healthy fats and protein. It also has some complex carbs from the vegetables and the green apple.. It's just the kind of filling, balanced, super-healthy meal that's perfect for the Candida diet. Our Ultimate Candida Diet program contains more than 100 gluten-free, sugar-free recipes just like this, plus lots of valuable advice on symptoms, treatment options, and more. Find out more here.
Free Guide To Beating Candida
Sign up to our free, 8-part email course today, and learn how to create your own, personalized Candida treatment plan :)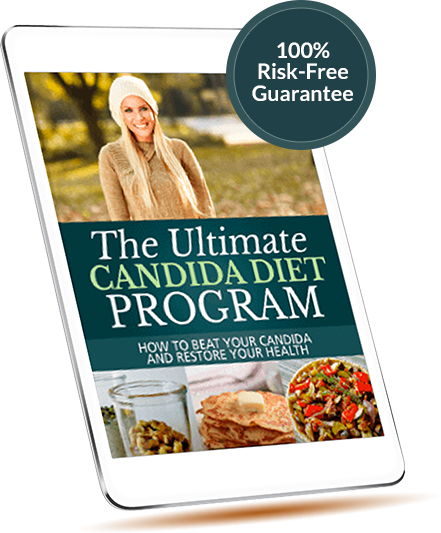 Beat your candida in 60 days
with this detailed 5-step program
If you're looking for a more comprehensive Candida treatment plan, check out the Ultimate Candida Diet program, written by Lisa Richards and Dr Eric Wood. This plan is based on the latest research into Candida Related Complex, and contains everything you need to know to beat your Candida overgrowth.
Comments