Sesame Cauliflower Rounds
The holiday season is over, and many of us have decided never to gorge on unhealthy crackers and biscuits again. Well, it doesn't have to be that way!
If you make your own crackers at home they can be an incredibly healthy, nutritious snack. This is just one of many snack recipes that can satisfy your cravings without ruining your Candida diet.
These healthy cauliflower rounds incorporate sesame, chia and flax, in addition to a cauliflower base. Gluten-free, wheat-free, and packed full of nutritional goodness, they are the perfect way to snack with your friends and family. Personally, I love eating them with some chicken liver pâté.
They are a much healthier alternative to your regular, store-bought crackers, which are likely full of gluten, sugar, and other ingredients that can cause inflammation in the gut. These crackers are gut-healthy and a great addition to your healthy, balanced diet. Enjoy!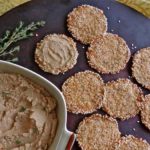 Sesame Cauliflower Rounds
Ingredients
4

cups

cauliflower flowerets, roughly chopped

¼

cup

golden flaxseed meal

2

Tbsp.

chia seeds

⅓

cup

sesame seeds

1

tsp.

salt

3

Tbsp.

coconut oil, melted

⅓

cup

water

1

cup

sesame seeds for topping
Instructions
Place cauliflower in a food processor and pulse until it resembles kernels of rice. Add golden flaxseed meal, chia seeds, sesame seeds, salt, melted coconut oil and water. Process until a dough is created (it should form a ball in the food processor). Chill dough until firm, 3 to 4 hours.

Preheat oven to 300 degrees F (149 degrees C). Line a baking sheet with parchment paper.

Roll rounded teaspoonfuls of dough into balls, then roll balls in sesame seeds. Place balls 3 inches apart on prepared baking sheet. Place a 4 inch square piece of parchment paper on top of a ball of dough, then flatten ball with a spatula, resulting in a 2 to 3 inch round. Repeat with remaining balls of dough on baking tray.

Bake rounds for 30 minutes, flip with spatula and bake for another 30 minutes or until rounds are dry in center. Repeat process with remaining dough.

Cool rounds completely before serving.
My Ultimate Candida Diet program includes more than 100 tasty recipes for every meal and every stage of the Candida diet. They are gluten-free, sugar-free, and absolutely delicious! Dr Wood and I have also included lots of valuable advice on how to beat Candida, and which foods to eat and avoid.
Free Guide To Beating Candida
Sign up to our free, 8-part email course today, and learn how to create your own, personalized Candida treatment plan :)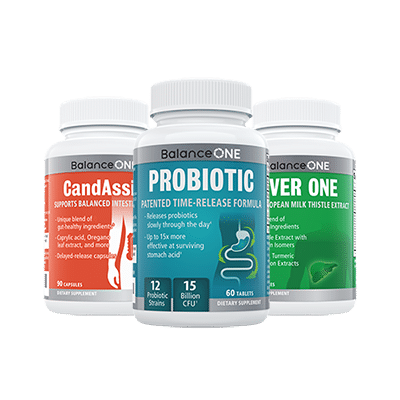 3-Month Candida Elimination Kit
Start Your 3-month Candida Cleanse
This Candida Kit contains all the supplements recommended on the Candida Diet:
- LIVER ONE to process and remove the toxins created by Candida.
- CANDASSIST to inhibit and weaken the Candida colonies in your gut.
- PROBIOTIC to replace the Candida yeast with probiotic bacteria.
Plus... the CANDIDA DIET RECIPE BOOK with 50+ low-sugar recipes
Comments